Featured Presentation: McAfee Hyperion Implementation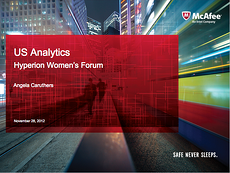 This featured presentation by McAfee covers specific requirements and issues they encountered during their Hyperion Planning and Hyperion Essbase implementations – all in the midst of the company's acquisition by Intel.
Learn how the world's largest dedicated security technology company uses Hyperion to:
Automate allocations for facility and IT costs
Enable best-in-class self-service reporting
Reduce the close cycle by streamlining and automating
Centralize the maintenance and integrity of hierarchy and meta data management for reporting and analysis for the global finance community
The Hyperion Professional Women's Forum was founded to create a community dedicated to the sharing of knowledge, expertise and inspiration among forward-thinking women in Enterprise Performance Management. HPWF's fun, quarterly events give us all a chance to meet new friends and share new ideas with colleagues.