Whether you're a major retail chain or an insurance company, can you honestly say you truly understand your customers? Your initial response is probably, "of course, I know my customers." However, chances are you're probably missing at least a few details.
With the proper business intelligence, you should know at least four major things about your customer — and be able to use those metrics to drill discover the smallest details. With the right tool, you'll even be able to figure out your customer's favorite TV show.
1. Persona
If you use a tool like Esri, you can start your search for your ideal customer using the most specific data. Using the Esri Tapestry Segmentation, neighborhoods are grouped into personas. This allows you to see what motivates your customer, how the spend their time, and what they most value.
Let's say you're a pool building company looking to target your sales among affluent married couples in North Texas. Looking at the Tapestry, you decided to focus on the "Top Tier" persona, as well as, "Professional Pride." Each persona has what your looking for: married couples who are financially secure, have children or grandchildren, and spend money on luxury items. You find that Dallas' Highland Park has 44 percent categorized in the "Top Tier" persona and 84 percent of Southlake, Texas is categorized as "Professional Pride." You might stop here and choose Southlake to target your sales, but you want to know a few more details before making your choice.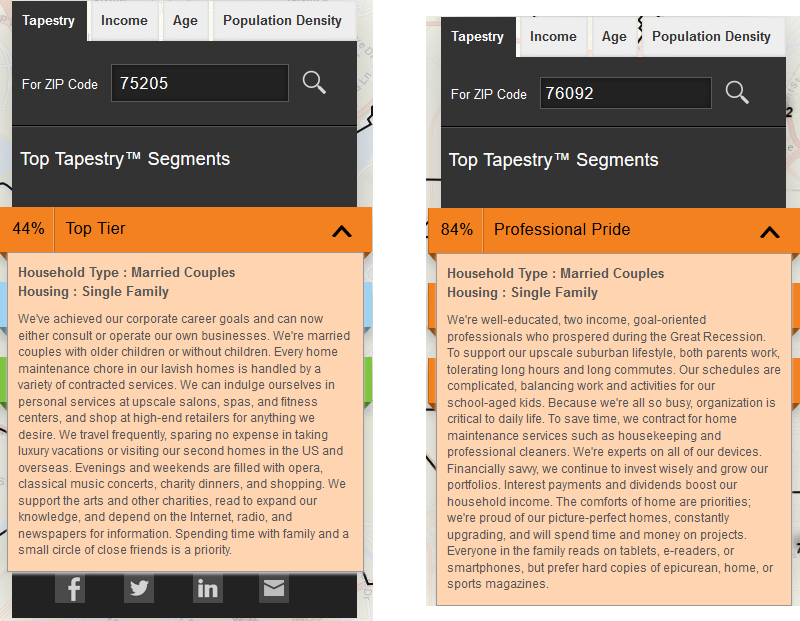 2. Income
Looking at the zip code of both Highland Park and Southlake, you see the average income is well above the county and state for both areas. But Southlake residents tend to make a little more on average.
However, the picture of your ideal customer still isn't complete. You need to know more before you make a final decision.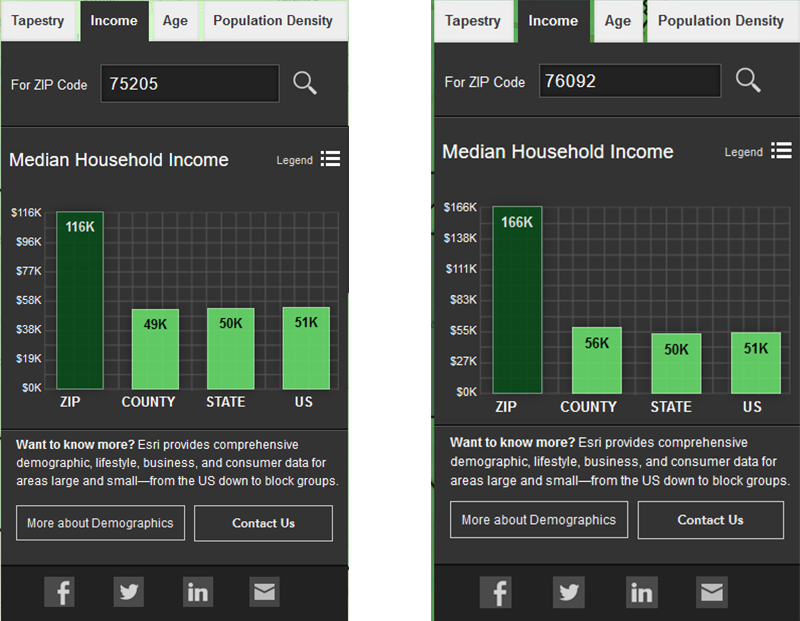 3. Age
Knowing that younger adults are more likely to build a pool, you're looking for a neighborhood with a median age between 25-34. Highland Park fits your age demographic better. However, you're looking for homes with larger yards that more space for a pool. You need to look at the population density to complete your assessment.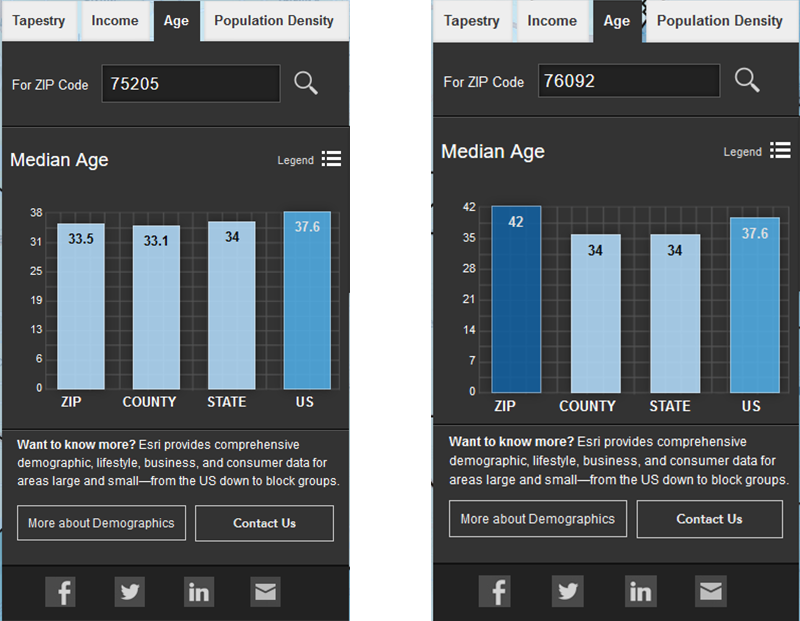 4. Population Density
With a smaller population density, you realize Southlake has larger yards and more opportunities to build pools.
Looking at these metrics step-by-step can help you really get to know your customers, allowing you to target your marketing and sales efforts, as well as assisting in site selection. US-GeoMarket's Qlik connector of Esri, Geo-Discover, you can have access to all of this data and even search by persona, rather than zip code. Additionally, Geo-Discover places all of these metric conveniently on a map.