Whether you're shopping around for an EPM solution or looking to switch over to a new solution — OneStream's drill-through capability is the functionality you never knew you needed.
"Drill through" is something you probably hear a lot in the EPM space. In the world of finance, it's especially important for you to see where numbers originated. OneStream has ensured this process is as easy as possible with its products.
In this blog post, we'll cover how OneStream makes it easy to drill through and drill back by:
Shortening the number of clicks (to drill to the most relevant data)
Keeping everything on your source system
Configuring integrations for your needs

Shortened number of clicks
The short answer? It's one click. If you work with a general ledger system, you understand why this is a big deal. Depending on your company, it might take 30 clicks to see where a number or piece of data originated. And you probably know it's not like clicking through articles on the Internet. It's a system — it takes time for things to load. With one click vs. 30 clicks, you're saving about 15-20 minutes.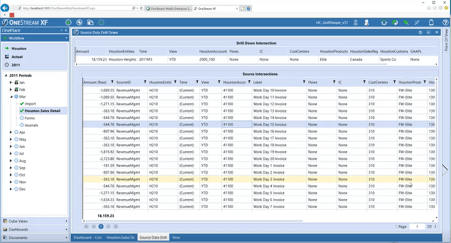 You're probably wondering how this works, but first you need to understand why it was made this way. The entire OneStream XF platform was created with the user experience in mind, and the same is true with the drill-through functionality. Their goal is to create a guided user experience. Those 30 clicks mentioned above are built into the connector based on the required drill path for the drill through.


Everything stays on your source system
Obviously, there's a lot of data on your source system that does not necessarily belong in cubes. With OneStream, you can get the best of both worlds, bring only the necessary data for reporting into the cube while still being able to drill back and through to the transactional details when a deeper level of investigation or audit is necessary.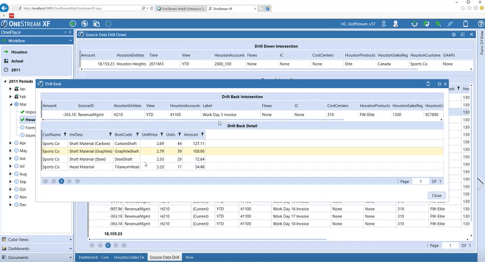 Your source system and OneStream are connected so that you never have to leave the OneStream XF platform. So, when you drill back and look at the source, you're viewing it in OneStream even though it's not stored in OneStream.
You can also use the OneStream staging area (which acts as a cube) to bring in details from the source system to build reports. The information you're loading up can still drill all the way back to the original data (if the user has security access).


Customization
Your OneStream implementation partner will meet with your IT department before the implementation to find the steps in a drill path.
They will also find out what kind of path to take your users on.
With this information, they configure the connector, ensuring that the drill path is built in — creating that "one click" user experience.
You might assume that this configuration takes longer to implement, but connectors are built quickly — typically in a couple of days for full integration, drill back, and drill through.


Want to learn more about OneStream functionality? Download the eBook
for more!

US-Analytics is a full-service OneStream consulting firm. To ensure end-to-end coverage of your technology, we provide a complete range of services: process and advisory, infrastructure, implementations, upgrades and migrations, training, and managed services.