PART 1: Barriers Preventing You From Getting Started?
View the On-Demand Webinar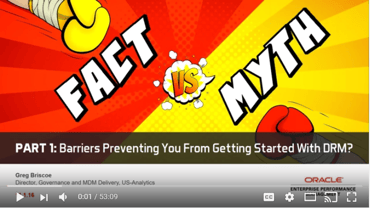 In this webinar replay, data governance guru Greg Briscoe debunks myths about Oracle's Data Relationship Management (DRM) application. Don't let common misconceptions stop you from getting an amazing return on investment!
Watch the on-demand webinar to walk through myths like...

"It's too expensive."

"DRM projects take too long."

"It only supports finance."

"This thing can't help me with my major priorities, like M&A, ERP transformation, or moving to the cloud."