What's great about Oracle's cloud-based solutions is that you get updates every month, but this can also be a detriment. It's difficult to prepare and adapt to updates every four weeks. Which is why this blog post might be considered "old news," but those that are ramping up for budget season might benefit from the reminder.
In this blog post, we'll cover a PBCS update that dates back to February 2018.
In February, Oracle published an update of new features and fixed defects (which, by the way, you can find on our blog every month).

In this release, they announced a couple of useful things that could easily be overlooked…
New Rules Usage Report
Business rules that are deployed in Planning can be used in forms, rulesets, menus, and task lists. You can generate a report, called the Rules Usage Report, that details where rules are used. To view rules usage, click the Navigator icon, and then under Monitor and Explore, click System Reports. Click the Rules Details tab, select filter criteria, and then choose the report's file format. The Rules Usage Report provides the rule name, rule type, cube, and any associations (primary and secondary).
Enter Data into Suppressed Row Members
Service Administrators can now enable users to enter data in a Planning web form for members on rows that are currently suppressed (because they have no data and the form layout option "Suppress Missing Data – Rows" option is selected).
The new Segment Properties option "Enable drop-down for dimensions" in form layout produces a dropdown list by a row's unsuppressed member. Clicking the down arrow enables users to select other suppressed row members, so they can enter data into them.
I was recently asked for some information on setting up and using these updates. Below you'll find a quick tutorial for each "new-ish" feature.


Getting to the New Rules Usage Report
In this quick tutorial, we'll go through the instructions on how to get to the report.
In the Simplified Interface, navigate to Navigator > Monitor and Explore > System Reports.

Select the tab Rules Details.
Select the Rule Type.
Select the Cube.
(Optional – Filter results)
Name Filter box can be used to filter the list of rules, i.e. if you only want to see Rules that have the word "calc" in them, type in calc and click Apply Filter.
Select Rule(s) to execute the report for. Choose Select All to run for all rules listed.
Select the File Format for the report.
Click Create Report.


Entering Data into Suppressed Row Members
In the form editor, choose the Layout tab.
Click on the row number to make the Segment Properties section visible.
Check the boxes next to the dimensions(s) in the row you want users to be able to add.
In this example, I chose both dimensions represented in the row.
Click Save or Finish to save the setting.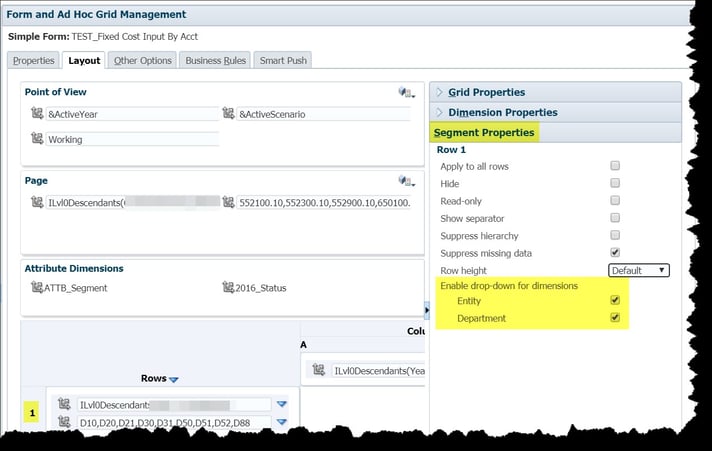 View from SmartView
Drop-down arrow appears when cell is selected.

View from Web
Hover mouse over member and drop-down arrow appears.


Notes for Consideration
Adding a suppressed row does work, but there is a limitation.
Based on my testing, the addition of a new row is only possible in simple forms; it does not work in composite forms. In SmartView, an error is generated when attempting to save the form, and from the web, the dropdown to add a new row simply doesn't appear.

Even though it looks like the addition of the suppressed member and correlating data entered is overriding data in an existing row, it's not. Once the data is submitted, the "new" row along with all the "old" rows appear on the form.
A new row may still be added even if all suppression isn't turned on.


You might also be interested in...