According to Enterprise Apps Today, Big Data will continue to dominate business intelligence in 2013, but experts are beginning to see a growing sophistication in how companies use it.
Experts interviewed by Enterprise Apps Today believe Big Data will remain the biggest trend in business intelligence for the foreseeable future. While Big Data is still an emerging concept, those using it are exhibiting a growing maturity, the experts say.
1. Big Data, Big Claims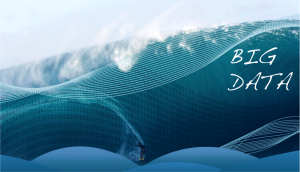 Big Data has the potential to provide more value to business intelligence users of all sizes than all of the value aggregated over the last 20 years. It's growing at astronomical rates in almost all verticals, and people are realizing that it is not just a more affordable, scalable way to do data warehousing and BI, but it's also the competitive weapon of this decade.
2. Big Data's Second Wave
Despite the hype surrounding Big Data, some believe we are only in the early stages of its analytics potential. Awareness has begun to move away from the fact that there is Big Data and that it should be mined, to defining more clearly how it can be harnessed to gain an edge. Companies are beginning to see that by leveraging these technologies, transformation of their business could be cheaper and faster enabling them to really focus on gaining a competitive advantage in their market vs. keeping just their company running.
3. More Sophisticated Analytics
As part of this growing connection between Big Data and business value, experts foresee developers becoming more sophisticated in their attempts to glean value from vast repositories of unstructured data. Instead of analytics derived from basic statistical correlations, Big Data technologies will evolve and leverage highly sophisticated algorithms that enable successful what-if decisions, driving the adoption of these types of algorithmic analytics and enable Big Data to become a major tool for overcoming risk and complexity.
4. Advanced Analytics Difference

Some professionals believe the advent of Big Data has exposed the difference between traditional business intelligence and advanced analytics that dig deeper into data. In a sense, traditional BI has become the 'question generator,' and analytics is becoming the 'answer machine,' with reports and dashboards now running against larger datasets and increasingly in real time, you are able to get a snapshot of your business and identify where you need to pay attention in sales, support, marketing and finance.
5. Simplified Big Data Tools
We are still in the early stages of determining how to uncover insights with Big Data. Doing so currently requires complex tools working on small samples of data, wielded by expensive consultants or hard-to-hire data scientists. Or you need an army of engineers working at the cutting edge of high-performance computing and analytics. The reality is that most people are struggling to get the full potential out of all the new Big Data technologies. 2013 is the year in which Big Data has to reach a level of maturity with applications that give us the depth of insight and performance and ease-of-use that we've come to expect from traditional BI running on traditional data sources.
6. Beyond Data Scientists
There was lots of talk in 2012 about the rise of the data scientist. At Data Science Summits held around the world, people discussed the shortage of professionals trained to make sense of mind-numbing streams of social chatter and other data. But like everything else in technology, simplicity will eventually reign. Just as traditional business intelligence has been taken out of the hands of the few and given to the many, the same is likely to happen with Big Data analytics.
7. Emergence of the Data Analyst
Due to the ubiquity of data, companies require a new set of specialists who can bridge the gap between IT and business by evolving their core thinking and approach to analytics decision-making. It's predicted that 'data artisans' and an emerging generation of analysts will provide answers to complex business questions in a short amount of time, using whatever data is required.
8. New Players, New Innovation
Another big trend in 2012 was traditional legacy BI mega vendors (SAP Business Objects, IBM Cognos, Oracle OBIEE and MicroStrategy) losing their stranglehold on the market. He believes the business intelligence marketplace is now more diverse than ever, with numerous new start-ups competing in the space and contributing innovative ideas.
9. Big Data, Consumerization and the Cloud
Experts forecast 2013 becoming the year of monetizing Big Data, thanks to growing use of cloud platforms, predicting that corporate analytic applications will get a facelift in 2013, when organizations begin adopting user-friendly consumption models for analytics. Cloud-based platforms will give users the tools to access, share, and curate collections of analytics applications.
10. Context via Data Connections
Maintaining stores of Big Data won't add value without context. That context includes business strategy, competitive shifts, market perception and more. Companies have found, for example, that trying to adjust to negative feedback on Twitter can make them manically reactive. The answer is blending such information with other data sources. Companies will be better equipped to take advantage of data that wasn't available before through connectors to data sources. By combining this data with other internal or even social media data, companies will get the context they need to make the right decisions.