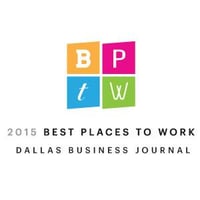 The Dallas Business Journal gathered local business leaders at the Fairmont Dallas Hotel this morning to award those companies recognized as the 'Best Places to Work in North Texas.'
Of several hundred companies that competed for the honor, US-Analytics was named one of the top companies to work for in the DFW metroplex.
US-Analytics has been an employer in Irving for nearly 15 years as a full-service consulting firm specialized in Oracle Enterprise Performance Management and Business Intelligence solutions. The team of functional and technical experts at US-Analytics has helped hundreds of the nation's largest and brightest companies bridge the gap between business goals and IT deliverables.
Prioritizing Customers and Family
Many US-Analytics employees have spent the better part of a decade with the firm. Employees like Tana Webb have seen the company become one of the fastest-growing private companies in America.
"I've loved working at US-Analytics for the last 15 years," says Webb, a sales powerhouse and mother of two. "They cultivate a corporate culture that encourages career growth and work/life balance. The leadership is family friendly and the firm is highly customer focused. The company's commitment to customer success ensures that everyone on the team is performing their best. Even after all this time, I'm still having a blast!"
Greg Bankston, EPM Sales Engagement Manager, has been with the company for a little over two years. He says of his rewarding experience, "I have the work/life balance that is so important to me; it allows me to grow professionally but also spend quality time with my young family. I also have the flexibility to grow into new skills and expand my role. Bottom line: I can't see myself having this fulfilling of a role anywhere else."
The demand for work/life balance from employees across the United States has grown in recent years. According to U.S. News and World Report, 76% of working Americans put a higher priority on family and personal life than the job they do. To US-Analytics, this isn't news — it's a no-brainer. But how do you create a highly customer-focused environment while simultaneously encouraging your employees to put family first?
"Flexibility and trust," says Wayne Conrad, President of US-Analytics. "We hire incredibly dedicated talent. The level of dedication and commitment that they show our customers is astounding, and there's no reason to expect they wouldn't be as dedicated to their families. We make sure we show our appreciation for their hard work by giving them the flexibility to get the job done in a way that best works for their individual needs."
As a direct result of this mindset, US-Analytics boasts a high retention rate among its employees and has built a profitable business based solely on their unparalleled reputation for customer satisfaction.
Creating a Culture of Appreciation
This work environment is no accident. Chris Runyan, Vice President of Resource Management, is the architect behind sourcing and cultivating the US-Analytics team. "Our goal here at US-Analytics is to attract and retain the best, provide them with the encouragement and support they need, then reward them for their hard work," says Runyan. "It's important to us that each employee knows they are integral to our company's customer-focused mission."
Accomplished sales veteran Bob Jansen was brought into US-Analytics as an independent sales and management consultant. He has improved performance, processes, and communication at numerous organizations. Jansen acts as an invaluable resource to US-Analytics employees: part coach, part cheerleader, and part therapist. He remarked on the unique level of trust and freedom the management encourages, "US-Analytics carefully selects talent who have complementary personalities. Each employee is treated as a capable individual who can deliver services with the ability to make decisions that benefit our customers and the team."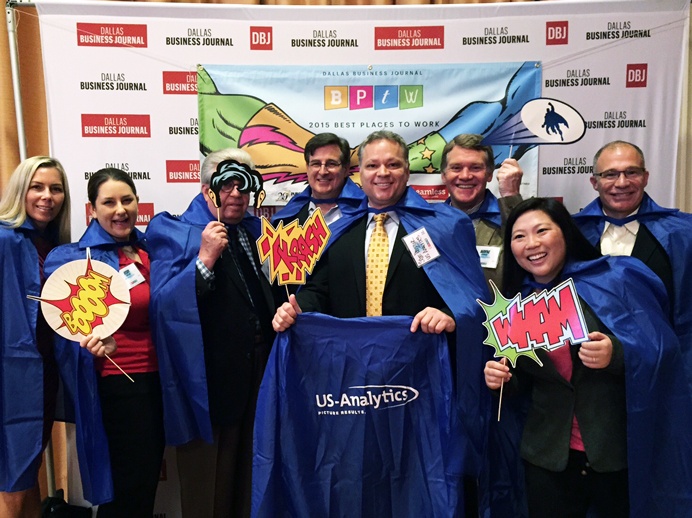 From left: Tana Webb, Heidi Cuellar, Bob Jansen, Philip Prather, Scott Preszler, Wayne Conrad, Nicole Harrell, Craig Kee
Founder and CEO Scott Preszler started this company with a number of goals, not the least of which was the kind of corporate culture he wanted to facilitate. "This has been one of the most rewarding acknowledgements we could have received — to know that our employees cherish and thrive in the environment we dreamed about many years ago."
When asked about his vision for the company's culture, Preszler said, "We believe employees want to be challenged, appreciated, and supported as a team. We felt then as we do now: if we can instill a culture of team building within our talented staff at US-Analytics, then we will not only provide a great place to work, but the staff will be motivated to provide amazing experiences for our clients."