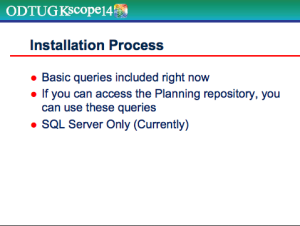 Missed Kscope14? We've got you covered. Exclusive content from the content now available. Held annually for Oracle developers and architects, ODTUG Kaleidoscope offers the finest in-depth technical sessions and hands-on training around Hyperion applications and infrastructure, Essbase, Oracle Business Intelligence (OBIEE) and BPM.
>> Kscope14 Download: Running with Scissors and Other Things You Shouldn't Do With Hyperion Planning <<
Hyperion Planning provides an excellent platform for deploying enterprise-scale budgeting and forecasting solutions. But there are some basic functions that Planning simply cannot accommodate out of the box. Learn how to delete years from the past, remove dimensions you no longer use or need, and report on secured objects and who is doing what on your applications. This presentation will also provide a primer to the Planning Repository and a variety of queries for readers to take home and void their warranties.
Brian Marshall is a US-Analytics Practice Manager with over ten years of expertise providing information technology solutions to drive business and revenue inside a variety of organizations. He has extensive knowledge of the Enterprise Performance Management suite of products. He specializes in Hyperion Essbase (ASO and BSO), Hyperion Planning (Classic and EPMA), and Hyperion Financial Management. Brian has presented every year at the ODTUG conference since 2010.