INTRODUCTION
There were a lot of Oracle EPM announcements at Kscope19 and it left some of us scratching our heads, wondering, "What's my next step?"
Well, first of all, you're not in this alone. We're here to help guide you and assist in making the decision that's right for your company. You also have time, but you should start evaluating your options now. Which is the reason for this blog post — it's a starting point for you to understand where you're headed with your on-premises EPM technology.
In this blog post, we'll cover…
Updates and the plan for Hyperion 11.2
Features not included in 11.2
Details and planned features for 11.2
Note: Any updates to features, functionality, or timing mentioned in this blog post are subject to change at the sole discretion of Oracle.



Updates for Hyperion 11.2
We've all been waiting for news of the next on-prem version, 11.2. As of Kscope19, the Hyperion 11.2 should come out in December 2019 (of course, Oracle's safe harbor statement applies). The reason why it's taken a little longer is that Oracle is "taking precautions to eliminate upgrade risks," according to Rich Wilkie, the VP of EPM Product Management at Oracle.
The plans haven't changed too much since Oracle first announced 11.2 at Kscope17 in San Antonio. A couple of notable items that have changed are…
Oracle Premier Support for 11.2 until at least 2030
The release is coming out at least six months later than originally planned
So, you might have a little longer with premier support and you have more time to decide if you want to upgrade to 11.2, move to the cloud, or go in a different direction. When it comes to decisions about your enterprise software, having a little extra time can never hurt.
Another thing you should note, you must be on 11.1.2.4 to upgrade to 11.2 — if you're on an earlier version you'll have to go through 11.1.2.4 to get to 11.2. If this is an option you're interested in exploring, you can set up a free consultation to better understand this path.
When 11.2 comes out in December, it won't have any new features — yet. It's designed to be a simple and easy transition from 11.1.2.4, and a technical update to assist in your support requirements. All new features will be added through PSUs starting in Q1 of 2020.
For customers on Hyperion 11.1.2.4, you have until December 2021 until Premier Support ends.
For a list of Support stages, terms, and policies, check out the Oracle Lifetime Support Policy page.


Features Not Included in 11.2
Oracle EPM Architect (EPMA) will not be included in Hyperion 11.2. Instead, it will be replaced by DRM. This will be called DRM for Hyperion EPM, it's restricted and will not include…
Reads and feeds from applications other than Hyperion EPM on-premises
Data Relationship Governance
DRM Analytics
However, DRM for Hyperion EPM will include…
Single Dimension Definitions: Define target-specific derived properties and validations
Value inheritance: Calculate values based upon a controlling hierarchy
Versioning: Take historical snapshots, spin what-if scenarios, rollback to points-in-time
Derived properties: Calculate values based on user defined functions and scripts
Custom validations: Validate based on custom business logic
Custom exports: Define custom exports to filter and transform master hierarchies
Compare hierarchies: On-demand "hot lists" of differences to ease reconciliation
Hyperion 11.2 will also use Workspace, rather than the Simplified User Interface. So, if you're on Planning 11.1.2.4, you'll experience a look and feel of the past.
To see the difference between Workplace and the Simplified Interface in Planning, check out the webinar replay.



Other features that will discontinued in 11.2, include…
Hyperion Financial Management (HFM)
Financial Management Analytics
Essbase Analytics Link for HFM
Quantitative Management and Reporting for Solvency
Hyperion BI+
Interactive Reporting (IR)
Production Reporting (SQR)
Web Analysis (WA)
Hyperion Planning
Hyperion Strategic Finance (HSF)
Crystal Ball (replaced by Predictive Planning)
Simplified User Interface
Workforce Planning
Capital Expense Planning
Project Financial Planning
Offline Planning
Additionally, 11.2 won't include Disclosure Management or EPM Mobile.


Details and Planned Features for 11.2
There were also some Essbase updates at Kscope19, we'll have more on that in a future blog post. What you need to know for now is that Essbase 11.1.2.4 will still be used for Hyperion 11.2. So, you won't have to upgrade Essbase if you decide to upgrade.
Other details and planned features, include…
Repository Simplification streamlines and simplifies infrastructure and architecture for the future
Replaces Foundation services with a simpler RDBMS repository
Content migration for FR/Workspace to RDBMS repository
3rd party certifications including…
OS: Windows 2012, 2016 (Linux 7 and AIX 7.2 to follow in the next PSU)
RDBMS: Oracle 12.2, SQL Server 2017
Browser: Edge, Chrome, Firefox
JDK 1.8
Technical upgrade — out of place install
HFM
Automated consolidations
Native Metadata Editor

Replaced metadata management

Purging source tables after import
Performance improvements

SV, DB batch processing, etc.

Linux Support
Hyperion Planning
Smart Push
Dimension Editor SV extension
Extended Attribute support
Valid Intersections
Data Relationship Management
Batch scripts to ease EPMA replacement
Enhanced DRG experience
DRG mass approvals
SFTP connection
See the Current Release and On-Prem EPM Roadmap Below…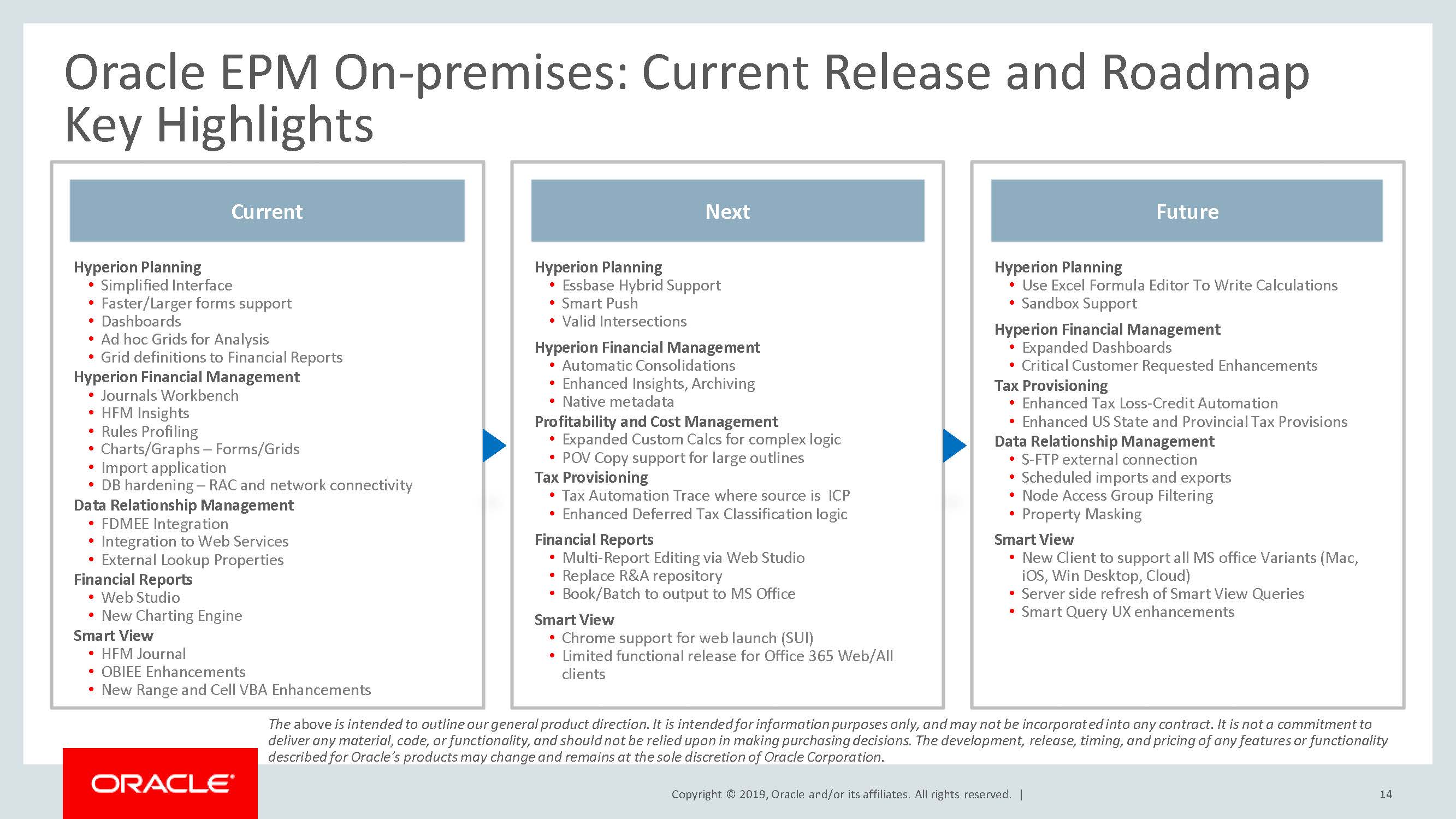 Not sure if you want to stay on-prem or move to the cloud? Compare your options...