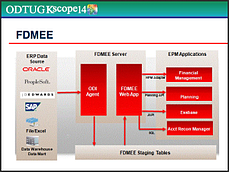 In the spring of 2013, Oracle announced that the terminal release of FDM/ERPi "FDM Classic" would be release 11.1.2.3 and the replacement product would be FDM Enterprise Edition, which combines functionality from FDM/ERPi. This presentation will present lessons learned when migrating from FDM/ERPi 11.1.2.2.300 to FDMEE 11.1.2.3.100.
>> Hyperion Tutorial: FDM Classic Migrating to FDMEE <<
Terry Ledet is a highly skilled Financial Systems professional with expertise in the development of complex Business Intelligence solutions, as well as experience in accounting, financial reporting, planning, and analysis applications. He has over sixteen successful years in project and resource management and is a Microsoft and Oracle Hyperion Certified professional. He is proficient in full lifecycle project implementation and has a proven history of being a fervent leader with the ability to deliver exemplary outcomes. Terry possesses the ability to identify and translate a client's needs into an actionable technical solution.
Longtime Oracle Partner, US-Analytics is a full-service consulting company focused on Oracle Enterprise Performance Management (EPM) and Business Intelligence (BI) for over a decade.