The December updates for Oracle's Financial Consolidation and Close Cloud Service (FCCS) have arrived. This blog post outlines new features, including data management dimension and attribute column enhancements, consolidation report enhancements, Smart View for dashboards, and more.
The monthly update for FCCS will occur on Friday, December 21 during your normal daily maintenance window.
New FCCS Features
Ability to Create New Composite Forms
To allow customers more time to adapt and move from composite forms to dashboards, Oracle has decided to defer the removal of the ability to create new composite forms (forms that comprise multiple simple forms) to a future update in 2019. After this update all existing composite forms can still be edited and used. This change impacts only the creation of new composite forms in the service. Oracle will notify you at least two months prior to the removal of the feature.
All customers are advised to use dashboards in place of composite forms. No more enhancements will be made to the composite forms functionality.
New EPM Automate Utility Version
A new version of the EPM Automate Utility, which includes the getdailymaintenancestarttime command, is available with this update. You use this command to display the Coordinated Universal Time (UTC) at which the daily maintenance of the environment is scheduled to start.
You must install this version of the utility to use the new command.
Data Management Dimension and Attribute Column Enhancements
Dimension and attribute columns can now accept a maximum of 300 characters. Formerly, the dimension column accepted a maximum of 80 characters, attribute columns 1-7 accepted a maximum of 70 characters, and attribute columns 8-14 accepted a maximum of 20 characters.
In addition, you can now import values into a maximum of 40 attribute columns. Formerly, you could only import a maximum of 14 attribute columns.
HsSetValue Accepts Additional Data Types
The HsSetValue function can now be used to set values from cells with Smart List, text, or date formats.
System Maintenance Task Options Enhancements
The Maintain FDMEE Data Tables option has been renamed to Maintain Data Tables by Application.
The new Maintain Data Table by Location option allows you to delete data for a specific location by period or category. You can still delete all locations for a target application by using the Maintain Data Tables by Application option.
A new Maintain Setup Data option has been added so that you can view and delete an orphan row or invalid data that cannot be accessed or deleted from the user interface. This data may include an orphan row from an import format, location, or data load rule. It can also include a duplicate row, or a Cloud user id or password defined for a local target application.
Consolidation Report Enhancements
The Consolidation Report has been enhanced with several new features:
Ability to save the report definition and run it at any time.When you create a report, you can run the report immediately, or save it as a job and schedule it for a later date.The Job status and logs are available from the Jobs console.
New report options include an option to display zero lines, and whether to display the Member name, Alias, or both the Name and Alias of the dimension member.
Ability to display all the eliminations per Data Source and support for custom rules (for example, the configurable calculation rule defined in FCCS_50).
Supplemental Data Manager Governors
In Supplemental Data, you can set governors on form template sections and attributes, and selectable columns in the Data Analysis dashboard, to improve application performance. The system provides default settings, which you can decrease or increase up to the maximum value. It enforces the maximum limits when these objects are created.
Supplemental Data Support for Negative Number Colors
For Supplemental Data, you can specify whether to display negative numbers in Red or Black. You set the negative number color in User Preferences on the Application card.
Smart View Support for Dashboards
You can now open Oracle EPM Cloud dashboards in Oracle Smart View for Office.
Dashboards give you an overview to key information and let you change and save data. When you open a dashboard in Smart View, a new Excel workbook is launched with each dashboard object displayed in a separate worksheet. Chart objects are displayed in grid format. Only grid and chart objects are supported; other dashboard objects are ignored.


Upcoming Changes
Proposed Changes to Application-level Access Control
Using Groups created in Access Control, EPM Cloud supports application-level access control for planning, consolidation and close, tax reporting, and Oracle Enterprise Data Management Cloud applications. In addition to the custom groups created in Access Control, access control screens list predefined identity domain roles (Service Administrator, Power User, User and Viewer) as groups.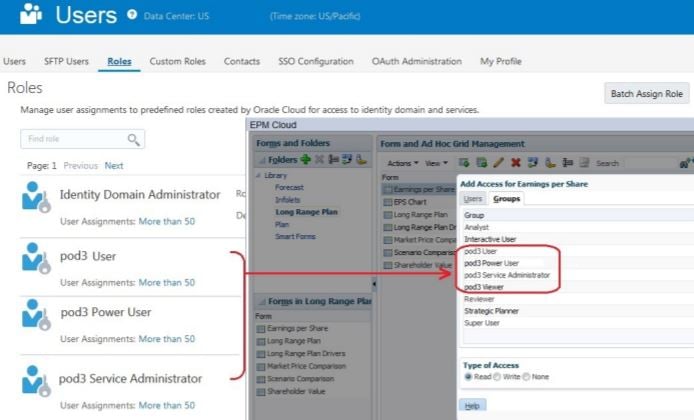 With a view to simplifying security across EPM Cloud and to ensure that application-level access control can be seamlessly migrated across environments Oracle plans to remove the ability to display predefined roles as groups in access control screens. After this change, you will no longer see predefined roles listed when you search for groups in access control screens.
NOTE: The proposed change will not affect how you create and manage groups or use them for applicationlevel access control.
Before making this change, Oracle wants to evaluate the impact, if any, that the proposed change will have on your environments. If you are concerned that the proposed change will affect your environment, please create a service request explaining your use case.
Classic Dimension Editor
With a view to allowing customers more time to familiarize themselves with the Simplified Dimension Editor, Oracle has decided to defer the removal of support for Classic Dimension Editor to a future update in 2019. Oracle will notify you at least two months prior to the removal of the feature.
Renaming Close Manager Feature Set
With a future update, the "Close Manager" feature set name is changing to "EPM Task Manager." When the change is announced, the user interface and documentation will be updated.


Considerations
Removal of Block Storage Cube Runtime Statistics
Starting in Release 19.02, run time statistics for Block Storage (BSO) cubes will no longer be available in the Database Properties module of Calculation Manager.
Load Data to P&L Accounts Using FCCS_ClosingBalance_Input
The 18.10 update contained a Valid Intersection rule to restrict users from using FCCS_ClosingBalance_Input to load data to P&L accounts. This rule has been removed starting in 18.11, so users should be able to load to that member now. Alternatively, P&L data can be loaded to the YTD_Input View without requiring a rule to populate the relevant periodic movement.