After Kscope17, we talked about what's going on with Hyperion on-prem support and Oracle's roadmap for future releases of on-prem products.
This month at OpenWorld, Oracle made their plans for what's coming to Hyperion a little more concrete. In this blog post, we'll look at the 11.2 plans for Hyperion Planning, HFM, Financial Close Management, and EPMA. You'll also see a helpful graphic comparing current, next, and future functionality for the EPM suite.
But first, we'll give you a refresher of Oracle's on-prem strategy and important dates to know.




Strategy & Dates
At this point, all of us are very familiar with Oracle's inevitable shift to the cloud. But, as with most things, there was some resistance to change — and Oracle heard you. Oracle isn't giving up on-premises products yet and announced during Kscope17 that a new version would be coming out in 2019.
Here's what we know:
The new version, 11.2, will include customer-driven enhancements. They're making the changes that their current customers want to see, rather than focusing on expanding their on-prem market.
Included in this on-premises strategy is a shift to make release cycles smaller and easier to adopt.
S1 defect fixing for 1.2.3 will only continue until March 2018. For 11.1.2.4, defect fixing, third party certifications, and enhancements will be made through December 2020.
The release of 11.2 is scheduled for early 2019. With that, Oracle will include an uplift to FMW 12g release.
Oracle is also planning a Repository Simplification to be released in early 2018. That will include the removal of foundation services with a content migration for Financial Reporting and Workspace to the RDBMS repository.
Defect fixing, third party certification updates, and enhancements will be made to 2 through December 2030.
Oracle's on-prem strategy also includes premier support for EPM applications through 2030.
Future & Upcoming On-Prem Features
Deciding whether to upgrade to 11.1.2.4 now, wait until 11.2 comes out, or even move to the cloud can be a little overwhelming. Naturally, a big part of that is the cost. There's also factoring in when support will end for some of these tools. Of course, knowing what features will be included in these tools can help you in making this decision.
Fortunately, we have a lot more details now after OpenWorld.


Hyperion Planning 11.2 Features
Use Excel's Formula Editor to Write Calculations
Formulas are persisted with member reference
Ability to write calculations using familiar Excel syntax
Business users can drive calculations
Sandbox
Ability to create user-defined versions on the fly
Calculate and aggregate instantaneously
Will honor security and access rights
Independent what-if analysis, iterative modeling, dynamic scenario comparisons, collaborative modeling
Essbase Hybrid Support
Sparse Dimension Dynamic calc
Block size reduction
Data size reduction
Valid Intersections
Define valid and invalid data intersections

Show only products pertinent to my region

End users only interact with valid data intersections
Users see only relevant information
Speeds planning process
Optimizes information rendered to users
Smart Push
Associate Data Map Rules to Forms
Move data on save of form
Option to associate relational data as part of move
Move data from BSO to ASO/BSO
Immediate update of full Planning data for reporting
Instant feedback loop for reporting and analysis
Essbase Hybrid Support — Block Count Reduction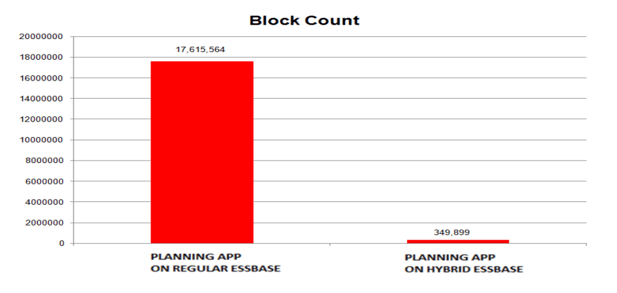 Essbase Hybrid Support — Page Size Reduction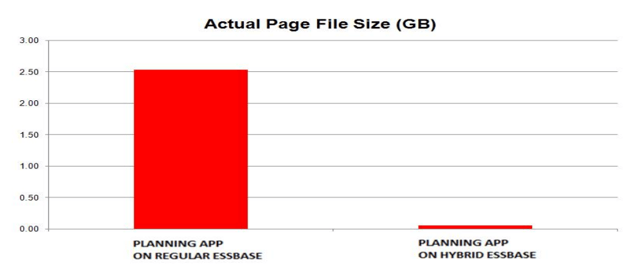 HFM 11.1.2.4.205
Data Insights
Statistics on data tables
Sorted by Scenario and Year
Number of records with…

Invalid data
Zero value
Foreign currency data
Input data
Calculated data

Size of the data tables
Benefits
Monitor application and system
Take action before issues arise


HFM 11.1.2.4.250
Automatic Consolidations
Utilize hardware during non-peak hours
Can turn it off
Configuration

When to consolidate
Where to consolidate

Multiple POV
Configurable hardware allocation
Benefits
Data is always consolidated
Consolidation is triggered by impacted data
In the Auto Consol window, system keeps checking impacted data and consolidates
Automatically checks for other activities and suspends
Round robin execution to consolidate dependent point of views


HFM 11.1.2.4.300
Expanded Dashboards
Archiving/Deleting unwanted data
Performance improvements
SV, DB batch processing, etc.
Integration with FCCS (Close Manager)


Financial Close Management 11.1.2.4.250
Account Reconciliation Manager (ARM)
Variance Analysis
Reconciliation Archive
Bulk Submit/Approve
Close Manager (CM)
Excel add-in to interact with Tasks
Supplemental Data Manager (SDM)
Team assignments
Configurable column width
Change import file delimiter
Allow negative state date offset
Oracle will also remove SOA in FCM, which drove workflow in CM and ARM. The architecture will be simplified going forward to resolve this issue for FCM users.


Enterprise Performance Management Architect (EPMA)
Oracle also clarified rumors about EPMA, from it being sold to SAP to hearing that Apple or Google had a better version.
EPMA is still valid for on-prem customers who want to share dimensions. They also clarified that…
Overview: Current, Next & Future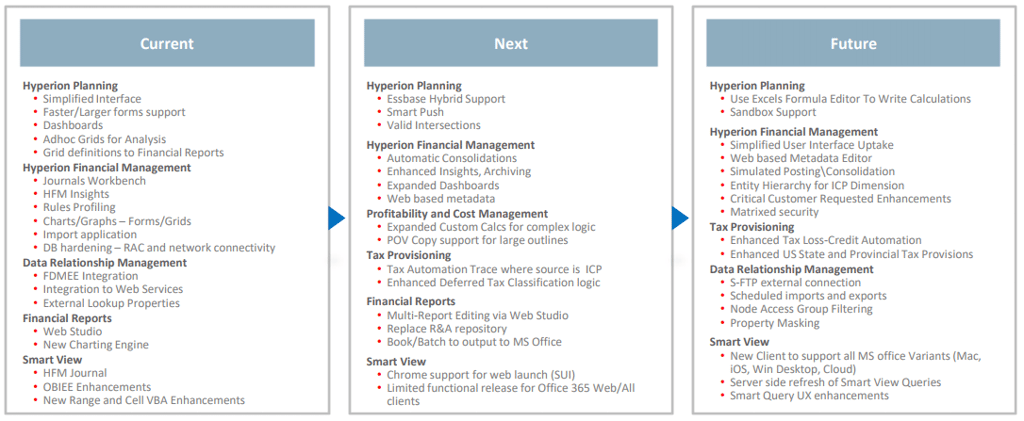 To learn more about Hyperion 11.1.2.4, watch the video…