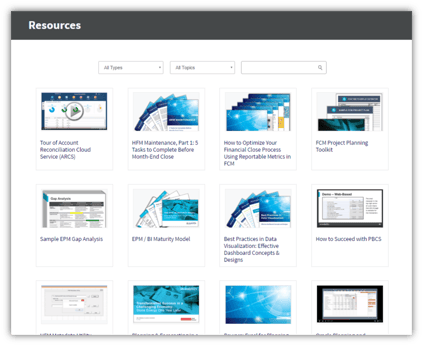 Visit our new Resources Library to easily find and download helpful content on a variety of EPM and BI topics:
Planning & Forecasting
Financial Close & Consolidation
Business Analytics
Data Integration
Infrastructure
Implementations
Managed Services
Process & Advisory
Upgrades & Migrations

You can search by topic and/or content type to browse the resources. Content types range from white papers, case studies, and videos to tools, podcasts, and services guides. Our presentations have been featured at Kscope, OpenWorld, and other Oracle events.
Can't find what you're looking for? Just email editor@us-analytics.com and we'll connect you to the information you need. Happy downloading!



US-Analytics is a full-service Hyperion consulting firm specialized in Oracle Enterprise Performance Management and Business Analytics solutions. Applying decades of experience along with advanced degrees and certifications, our team of functional and technical experts has helped hundreds of the nation's largest and brightest companies bridge the gap between business goals and IT deliverables.