The October updates for Oracle's Planning & Budgeting Cloud Service (PBCS) and Enterprise Planning and Budgeting Cloud Service (EPBCS) are here! This blog post outlines several new features, including new functions in calculation manager, support for master-detail relationships between forms in a dashboard, and more.
The monthly update for PBCS and EPBCS will occur on Friday, October 19 during your normal daily maintenance window.

Updates for PBCS and EPBCS
New EPM Automate Utility Version
A new version of the EPM Automate Utility is available with this update. This version includes the renameSnapshot command, which enables you to rename a snapshot available in an environment to prevent the maintenance process from overwriting it. Customers who have small applications can use this command to archive
This version also includes updates to the rundailyMaintenance command, which has been enhanced to take skipNext as a new optional parameter. This parameter allows you to skip the next occurrence of the daily maintenance process. Use this parameter to prevent the daily maintenance process from interfering with long running ad hoc processes of unknown duration that you execute in an environment. snapshots in the environment subject to snapshot retention policies.
Support for Dashboard Task Types in Task Lists
You can now add a Dashboard task type to task lists. To add a dashboard task to a task list, click the Navigator icon, and then under Create and Manage Task Lists , click . When you select the Dashboard task type, you must select a dashboard and specify task information. This task type is accessible only in the Simplified Interface.
New Functions in Calculation Manager
The @CalcMgrDatesToExcel custom functions has been added to Calculation Manager. This function converts multiple dates in YYYYMMDD format to Excel dates.
New Server Setting in Financial Reporting Web Studio
A new server setting, "Export to Excel Using Default Sheet Name", controls Excel sheet names upon export. When set to false, the sheet name uses the Financial Reporting report name. When set to true, the sheet name uses the Excel default name (Sheet1, Sheet2, etc.).
Support for Master-Detail Relationships Between Forms in a Dashboard
You can now design dashboards that support master forms and objects with details. When you tag a form in a dashboard as master, the selection of members in the master form filters to the members in the target objects, and the target objects show only the details that are relevant to the members selected in the master form.
To create a dashboard containing a master form and target objects:
1. Create a new dashboard or open an existing dashboard that has at least one form and one or more target objects.
2. Ensure the dashboard is in designer mode by clicking Actions, and then clicking Edit.
3. Select the form on the dashboard that you want to designate as master, click the Settings icon for that form, and then select Tag as Master.
To filter the data in the target forms or charts that is relevant to the data in a master form, right-click the relevant data in the master form and select Apply Context.
Improved Daily Maintenance Performance and New Application Setting
This update introduces a new application setting which improves automated maintenance window (AMW) performance.
Prior to this update, the daily maintenance backup would perform a data export of the Essbase data plus the Planning member-driven Smart List intersections with their corresponding text labels. Thus for high volume data customers, the hour-long daily maintenance process was not long enough to complete a full data export.
Due to optimization done in 18.10, daily maintenance no longer needs to export member driven Smart Lists. The backup generated during the daily maintenance process now creates a snapshot where the data can be used to clone an environment.
New application setting: Export Planning Smart List data during AMW
No—Creates a complete application backup during the maintenance process, such that data can be used as part of a full restoration
Yes (default)—Performs a complete export, such that data can be incrementally imported to an application (this option may lengthen the maintenance process duration)
If you need to perform an incremental (or selective) data load, then keep the default option (Yes) to perform a complete export during the maintenance process, including the Planning Smart List data.


Upcoming Changes
Proposed Changes to Application-level Access Control
Using Groups created in Access Control, EPM Cloud supports application-level access control for planning, consolidation and close, tax reporting, and Oracle Enterprise Data Management Cloud applications. In addition to the custom groups created in Access Control, access control screens list predefined identity domain roles (Service Administrator, Power User, User and Viewer) as groups.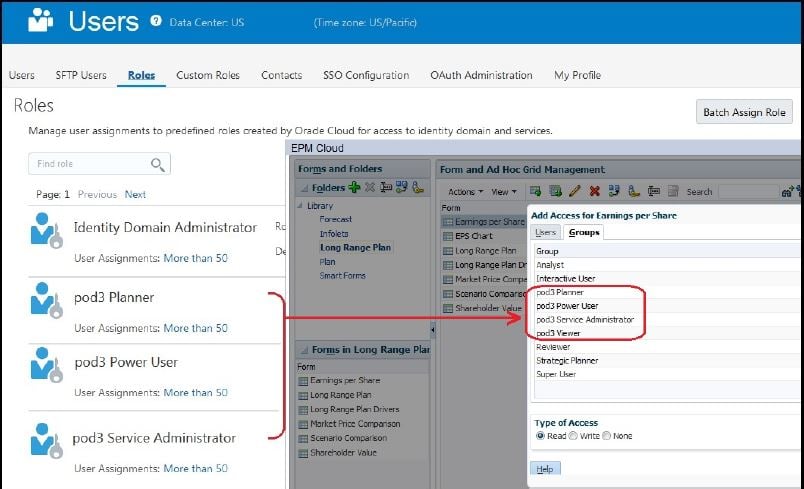 With a view to simplifying security across EPM Cloud and to ensure that application-level access control can be seamlessly migrated across environments Oracle plans to remove the ability to display predefined roles as groups in access control screens. After this change, you will no longer see predefined roles listed when you search for groups in access control screens.
NOTE: The proposed change will not affect how you create and manage groups or use them for application-level access control.
Before making this change, Oracle wants to evaluate the impact, if any, that the proposed change will have on your environments. If you are concerned that the proposed change will affect your environment, please create a service request explaining your use case.
Classic Dimension Editor
With a view to allowing customers more time to familiarize themselves with the Simplified Dimension Editor, Oracle has decided to defer the removal of support for Classic Dimension Editor to a future update in 2019. Oracle will notify you at least two months prior to the removal of the feature.
Ability to Create New Composite Forms
To allow customers more time to adapt and move from composite forms to dashboards, Oracle has decided to defer the removal of the ability to create new composite forms (forms that comprise multiple simple forms) to a future update in 2019. After this update all existing composite forms can still be edited and used. This change impacts only the creation of new composite forms in the service. Oracle will notify you at least two months prior to the removal of the feature.
All customers are advised to use dashboards in place of composite forms. No more enhancements will be made to the composite forms functionality.


You might also be interested in...