We've talked about the first key to a successful EPM or business analytics project: understanding your project's unique complexity gap. And we've talked about how to create a gap analysis and assess the potential effort that your project will require.
Once these two items are complete, the next step in this process is to select an Oracle Hyperion implementation partner. To help you evaluate prospective implementation partners, this blog post will detail the three most important selection criteria and how to predict success in those areas.
Selection Criteria
Successful projects rely heavily on the implementation experts (consultants) that actually perform the required activities. There are a lot out there, from the Big 4 to mid-tier firms to smaller boutique firms like US-Analytics. At the end of the day, whoever is selected must contain three core competencies and bring excellence in all three: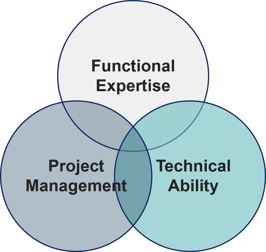 Functional expertise
Strong functional expertise — knowledge around technical accounting issues, process expertise, and best practices — is critical to matching your unique requirements and business intricacies to the design and ultimate success of the application and project.
How to spot it: Look for team members who have real-world corporate experience. A new CPA just out of college will not have the same level of experience as a former business unit controller or FP&A director with 5 to 10 years of experience, regardless of letters after the name.



Project management
Strong project management experience will help the team anticipate potential and actual road-blocks, facilitate change, hold all parties accountable for action items and deadlines, and ultimately drive the project to success.
How to spot it: Look for team members who have completed multiple projects that are similar to yours. PMP certification helps to ensure that proven project management methods are used. Most importantly, bear in mind that the most knowledgeable team members have learned from successes as well as failures. The project manager's personality and fit with your company culture go a long way as well.


Technical ability
It's strong application development personnel that brings the functional vision to reality. Of the three core competencies, this may be the most difficult one to judge. All firms will tout they have the best technical resources.
How to spot it:
Use the information gleaned from the gap analysis regarding specific functional requirements as a litmus test for technical ability. Ask specific questions on your complex requirements and how they propose to solve them.
Certifications in a particular technology are useful, but experience designing and building very complex solutions will demonstrate that they've "been there done that," so ask pointed questions.
Reputation within the implementation community will usually go a long, long way as well. You have to be effective to remain in the field a long time.

The best implementation partner will demonstrate a proven track record of success in all three of these areas — and all three are critical for success. Most projects fail because one or more of these areas are not equally represented. If your business is complex as indicated by the gap analysis, technical ability is very important in order to realize the full benefits of your application implementation. That said, keep in mind that the other two areas are just as important for the simple reason that your complex business model must be both understood by the implementation team from a functional standpoint and then realized through good project management.


Tales from the Field
Let's now look at a few real-world examples of projects applying the principles we've covered in this blog series. Note the correlation between understanding the complexity gap and achieving expected results.


Global manufacturer that dedicated qualified internal resources on the project full time and empowered them to make decisions
Took the time to understand current state against the future vision
Added detail to current consolidation system for plant level validations and reporting
Painfully discovered weaknesses in controls for loading data in European division and improved them
Integrated and improved planning and forecasting tools
Shortened close cycle by 5 days


Global diversified business that implemented a consolidation system across 3 disparate business units
Expected benefits to multiple departments through migration of existing system

Enhanced tax reporting resulting in real savings
Forecasting and planning in consolidations application
Branch and plan level detail
Automation of key functions, like intercompany eliminations

Took time to understand the underlying data model for reporting

No data model to support enhanced reporting
No capability to embrace change in timely manner
Used this knowledge to tee up enhancements later

Modified scope of project after analysis to achieve attainable success and launched a unification project globally


Global retailer that implemented multiple systems simultaneously and was aggressive in reporting layer features and functionality
Implemented new system from home-grown toolset
Simultaneously underwent global SAP rollout
Scaled back reporting toolset to accomplish basic reporting and functionality at first, then expanded
Changes in the chart of accounts required a new data model and allowed for expanded reporting down the road