Kscope18 has ended — which means those who didn't attend (or missed this particular session) are eager to hear about the changes to Oracle's plans for the future of on-premises EPM solutions.
It's no secret that Oracle is putting all the innovation in the cloud, but users can still look forward to the release of the last on-prem version announced last year at Kscope17.
In this blog post, we'll specifically look at Hyperion Planning and how the roadmap has changed for Planning since last year. We'll also talk about versions that have lost support from Oracle, as well as the disparity of features between PBCS vs. Hyperion Planning.
Note: Any updates to features, functionality, or timing mentioned in this blog post are subject to change at the sole discretion of Oracle.


Timeline
The timeline hasn't really changed since last year, but it's always good to have a refresher of what's going on.
Versions 11.1.2.3 or lower lost S1 defect fixing in March 2018. However, 11.1.2.4 will have defect fixing, third party certification updates, and enhancements until December 2020. Meanwhile, the next (and reportedly last) on-prem version, 11.2, is scheduled for release by the first quarter of 2019.
These dates don't really match up, giving on-prem Planning customers a lot to think about. Many customers may also worry that 11.2 might not be out by early next year, but Senior Director of EPM Product Management Rich Wilkie said it will "definitely be the first half of next year."
11.1.2.4 customers don't have much to worry about for the next two years, but 11.1.2.3 or lower need to decide if they want to…
Upgrade to 11.1.2.4
Wait to upgrade until 11.2 is released
Move to the cloud
Or consider another technology
If you're still on the fence about the cloud in general and the decision-makers at your organization are still confused about what it means, check out the eBook: To Move to the Cloud or Stay On-Prem?
But, if you're wanting to wait and see what features the 11.2 version of Hyperion Planning will have compared to Oracle Planning and Budgeting Cloud Service (PBCS), you're in the right place. We'll cover that in the next couple of sections, but first you should be aware of a few support terms.


Oracle Support Terms
The below graphic gives you a general idea of the timeline of support for each version of your EPM products. You'll notice that "sustaining support" goes off the map – that's because it's indefinite.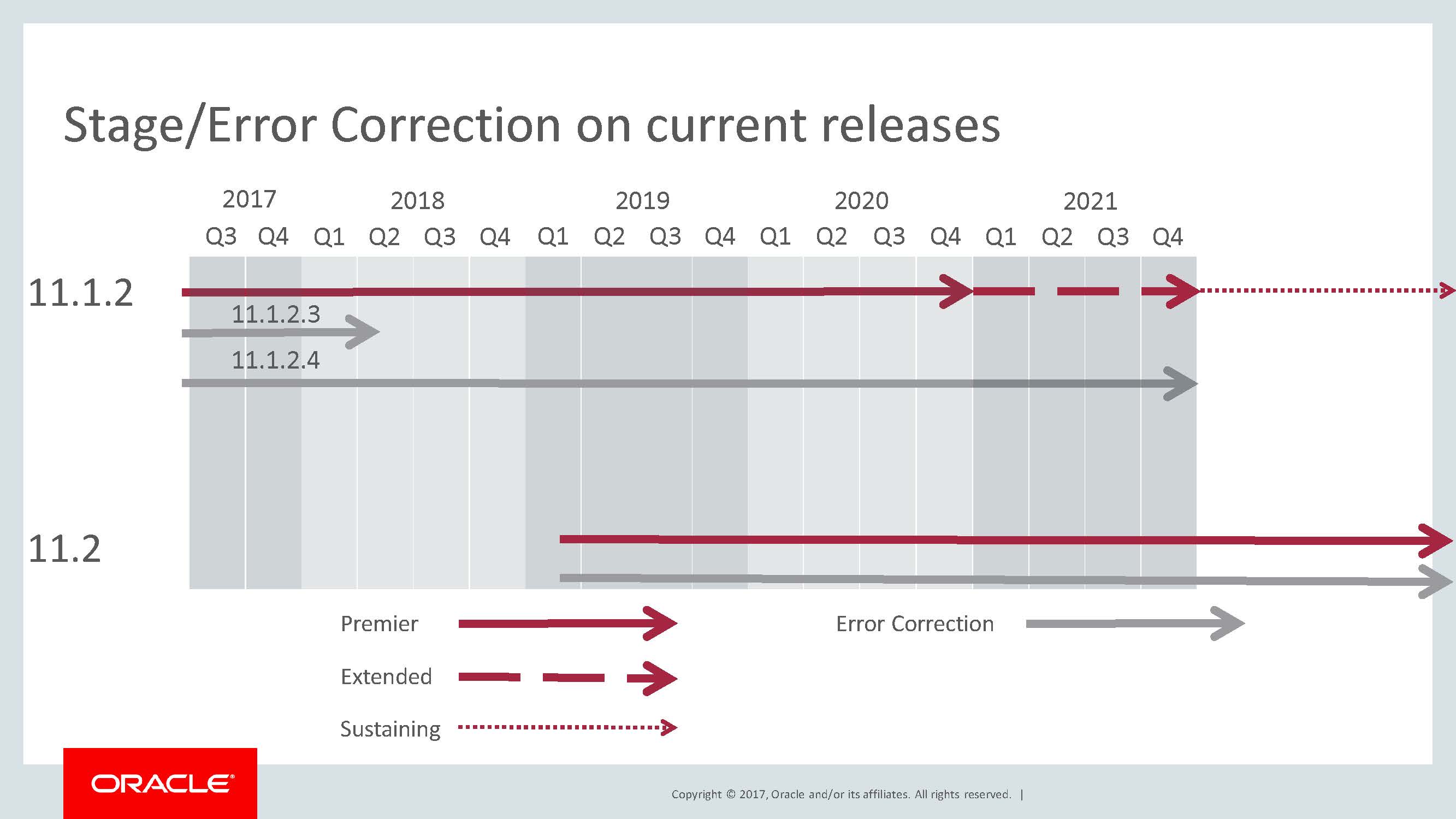 Oracle has three different types of support for its products: Premier, Extended, and Sustaining.
Premier Support gives you access to comprehensive maintenance and software upgrades for five years from the general availability (GA) date.
Extended Support gives you control of your Database, Middleware, and Applications upgrade strategy with additional maintenance and upgrades for an additional fee.
Sustaining Support provides maintenance for as long as you use your Oracle software. You gain access to Oracle online support tools, upgrade rights, pre-existing fixes and assistance from technical support experts.
It's important to note that 11.1.2.4 is the only release still receiving new defect fixes and minor enhancements. Currently, Planning patch set updates look like this…
1.2.4.008 – Q1 2018
1.2.4.009 – Q2 2018
1.2.4.010 – Q3 2018
1.2.4.011 – Q4 2018
If you need more guidance on lifetime support stages, check out this page. You can also check out the Oracle Lifetime Support Policy for support information about specific products.


Hyperion Planning vs. PBCS Features
For all the 11.1.2.4 customers who are thinking about a seamless move to 11.2, you should note that the current plan is for all 11.2 EPM products (including Hyperion Planning) to have Workspace as the interface, not the simplified user interface that users have become accustomed to.
Besides going back to the previous interface, the four key 11.2 features for Hyperion Planning are already available in PBCS and include…
Use Excel's Formula Editor to Write Calculations
Formulas are persisted with member reference
Write calculations using familiar Excel syntax
Business users can drive calculations
Sandbox
Create user defined versions on the fly
Calculate and aggregate instantaneously
Independent what-if analysis, iterative modeling, dynamic scenario comparisons, collaborative modelling
Valid Intersections
Define valid and invalid data intersections
End users only interact with valid data intersections
Users see only relevant information
Speeds planning process
Optimizes information rendered to user
Smart Push
Associate data map rules to forms
Move data on save of form
Option to associate relational data as part of move
Move data from BSO to ASO/BSO
Immediate update of full Planning data for reporting
Instant feedback loop for reporting and analysis
It's important to note that Hyperion Planning 11.2 won't have all the features currently available in PBCS, and PBCS will continue to see improvements with innovative features and functionality.
There are a lot of other features that are currently part of PBCS that probably won't make it to Hyperion Planning. Right now, these include…
Forms

Exclusions
Ranges
Formatting

Smart Forms
Periods
Years
Data Maps
Valid Intersections
SmartLists
Attribute Dimensions
Navigation Flows
Dashboards (included in 11.1.2.4 without the following visualization types)

Combination Graphs
Funnel
Radar
Tile

Browser and Mobile Support
Localization
Groovy Business Rules
LCM Maturity
The Academy
And, of course, with PBCS you won't have infrastructure needs since it's taken care of by Oracle. No patches to install and nothing to configure — it's updated auto-magically.
Whether this update sounds like good news or bad news, your organization has plenty of time to decide the next step. If you need help assessing your current state vs. where you want to be — send us a message or give us a call.


Want to learn what features from PBCS you can apply to Hyperion Planning? Download the Kscope18 Presentation…