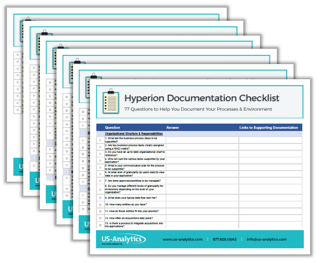 No matter what Hyperion applications your organization uses, good documentation is integral to system performance. If you don't have your environment properly documented in an administrator's guide, inconsistent process execution will most likely cause your applications to run poorly — wreaking havoc on your end users' experience and diminishing your system's ROI.
It takes time to put together a properly thorough admin guide, but this level of detail is invaluable to have when your admin leaves or you're facing a big project, like a migration to the cloud or a major enhancement.
Hyperion administrators are faced with a difficult task when they join an organization, especially when Hyperion applications are poorly documented. This blog post will give admins a starting point when they've been dealt a difficult hand.

Responsibilities / Organizational Structure
Ensuring that you understand who is responsible for key activities in each business process is the best place to start. You can start with a quick look at your organizational chart to help you understand who your users are and the business roles they fill. Use an Excel-based RACI (Responsible, Accountable, Consulted, Informed) document to define tasks and every user's role in the process. This is the first step in understanding who will be using the Hyperion applications and who will be receiving reports.
If you've just started at a company that has been without a Hyperion admin for a while, this information might be outdated and should be double-checked.


Applications & Business Processes
Depending on your role, you might be responsible for one Hyperion application or more. No matter what your organization uses — Hyperion Planning, Hyperion Financial Management (HFM), or one of Oracle's cloud applications — you need to fully understand how the applications are being used. It's important for you to document the key business processes and all the maintenance activities step by step, including screenshots, and to have a schedule of when all these activities need to occur.
For example, if you're maintaining a Hyperion Planning application, you need to make sure to conduct application maintenance (like variable and form updates) before the start of a new planning cycle. For the HFM admin, you'll also need to install patches to your Hyperion servers during the period right after close — and right before you start preparing for the next close. For each process, a checklist will help ensure you complete all the steps and not forget actions. Our HFM Patch Testing Checklist can help you get started.
You should also document all your calculations, business rules, and load rules for every application.


Data Integration
Understanding your data integration process is paramount to keeping your Hyperion applications running smoothly. You need to document where your data is sourced from, the frequency of your data loads, the volume of data that is loaded, and more.
For a full list of data integration questions that need answering, download the Hyperion Documentation Checklist.


Security
Active security management is key to the success of an application and process for a company. If it's been a while since your organization has had an admin, there probably aren't processes in place to validate data. Getting those processes down should be your first step in securing your application. The rest of your security measures will mostly revolve around your users, their roles, and the groups they are in.
There are a lot of questions you'll need to answer when documenting your Hyperion environment. To help you get started, we've compiled a checklist that includes 70+ questions and a template to organize answers and supporting documentation: