The August updates for Account Reconciliations in Oracle EPM Cloud have arrived. In this blog post, we'll cover several new features, considerations, and more.
We'll let you know any time there are updates to ARCS or any other Oracle EPM cloud products. Check the US-Analytics Oracle EPM & BI Blog every month.
The monthly update for Oracle ARCS will occur on Friday, August 16 during your normal daily maintenance window.



ARCS New Features
Reviewers and Viewers Now Allowed to View Unmatched and Suggested Match Tabs in Transaction Matching
Reviewers and viewers can now view the Unmatched transactions in Transaction Matching as well as the
Suggested Matches in a "read only" mode. This allows reviewers and viewers to view the details of
transactions that are marked as Supported and see the comments and documents attached by a Preparer
without making changes.


Period Start, End, and Close Dates Added to List of Attributes for a Calculated Attribute
You can now select Period Start, Period End or Period Close dates when creating a calculated date attribute. For example, if you wanted to compare the Closed Date on an Adjustment transaction to the Period End Date, that can now be done.


New Version of EPM Automate
A new version of EPM Automate is available with this update. This version contains updates to the
recreate command, which has been enhanced with the removeAll optional parameter. This
parameter, when set to true, removes all user created snapshots as well as the content of the inbox
(uploaded files) and outbox (files generated by using the Export capabilities of Migration).


Upcoming Changes
EPM Cloud's New Look and Feel
In a future update, there will be a revised interface with enhanced navigation and a new theme called Sky Blue.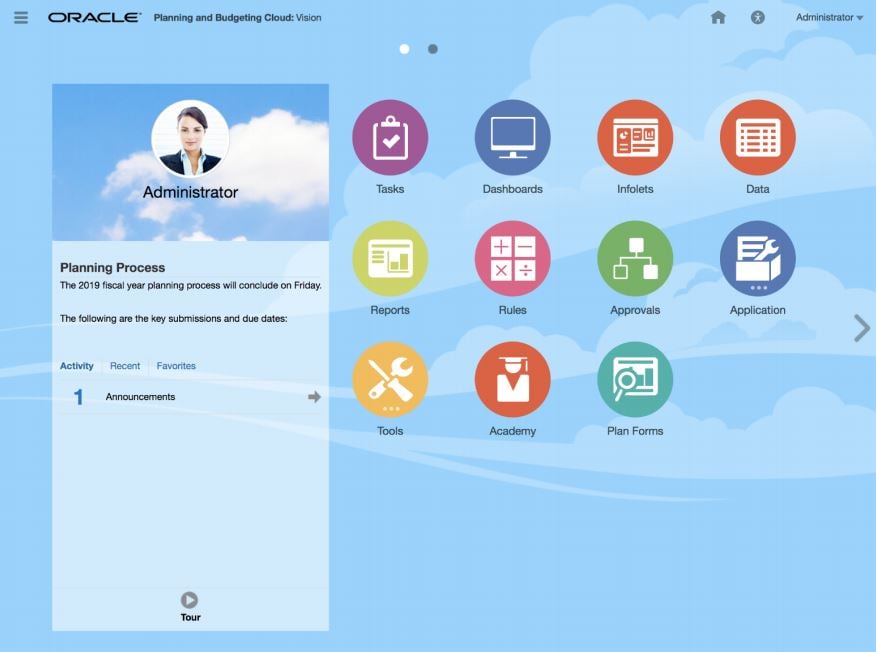 The revised interface retains existing functionality and enhances your Home page experience with a more responsive design. The Welcome panel and the global header readjust after resizing, which means less scrolling. Clearer announcements and notification areas are added to the Welcome panel, as are arrows to help you navigate easily between the Home page and your infolets. A bigger Navigator menu has improved usability, more themes for customization are included, and a bigger work area has more space to maneuver and provide better visibility. The interface is more consistent with other Oracle products, such as Fusion Applications.
After the interface is released, all new customers will use the new lighter-colored Sky Blue theme, and existing customers will keep their current theme. You can switch themes using Tools, and then Appearance.


Removal of Instance Name from Predefined Role Names
Currently, the predefined role names displayed in the Access Control screens of EPM Cloud environments
prefix the instance name to the role name in INSTANCE_NAME ROLE_NAME format. They are also stored in this format in the snapshots, making it difficult to migrate snapshots from one instance to another.
To facilitate the migration of security across EPM Cloud environments, Oracle plans to rename predefined role names displayed within EPM Cloud applications by removing the instance name prefix in the August update. For example, if the instance name is Planning1, predefined role names are Planning1 Service Administrator, Planning1 Power User, Planning1 User and Planning1 Viewer. The new role names will be Service Administrator, Power User, User, and Viewer.

NOTE: This change does not affect how the role names are displayed in the MyServices customer portal.
This change will affect customers who use the predefined roles for managing application-level provisioning and access to artifacts; you will need to reassign such assignments using the updated role name after the roles are renamed. This change makes it easy to migrate EPM Cloud artifacts across environments.
Additionally, all predefined role names; Domain Administrator, Service Administrator, Power User, User, and Viewer will be treated as EPM Cloud keywords, which should not be used in the name of any custom artifacts that you create; for example, group name in Access Control. If you have any group with these keywords, rename them before this change comes into effect.


Considerations
Academy
In the Academy, some pages and icons may appear different in the video and the Cloud service.
Using Refresh
It is a best practice to use Refresh within the Account Reconciliation Cloud user interface rather than
performing a browser refresh.