The December updates for Oracle's Planning & Budgeting Cloud Service (PBCS) and Enterprise Planning and Budgeting Cloud Service (EPBCS) are here! This blog post outlines several new features, including advanced Data Maps in Strategic Modeling, creating custom depreciation and amortization methods in EPBCS, and more.
The monthly update for PBCS and EPBCS will occur on Friday, December 21 during your normal daily maintenance window.

Updates for PBCS and EPBCS
New EPM Automate Utility Version
A new version of the EPM Automate Utility, which includes the getdailymaintenancestarttime command, is available with this update. You use this command to display the Coordinated Universal Time (UTC) at which the daily maintenance of the environment is scheduled to start. You must install this version of the utility to use the new command.
Toggle Between HTML and PDF Report Output
A new reports drop-down list for HTML Preview or PDF Preview enables you to toggle between HTML and PDF output. When a report is expanded in HTML and then previewed in PDF, the expanded report is displayed in PDF. The report maintains the expanded members if you switch back to HTML view.
HsSetValue Accepts Additional Data Types
The HsSetValue function can now be used to set values from cells with Smart List, text, or date formats.
Data Management Dimension and Attribute Column Enhancements
Dimension and attribute columns can now accept a maximum of 300 characters. Formerly, the dimension column accepted a maximum of 80 characters, attribute columns 1-7 accepted a maximum of 70 characters, and attribute columns 8-14 accepted a maximum of 20 characters.
In addition, you can now import values into a maximum of 40 attribute columns. Formerly, you could only import a maximum of 14 attribute columns.
System Maintenance Task Options Enhancements
The Maintain FDMEE Data Tables option has been renamed to Maintain Data Tables by Application.
The new Maintain Data Table by Location option allows you to delete data for a specific location by period or category. You can still delete all locations for a target application by using the Maintain Data Tables by Application option.
A new Maintain Setup Data option has been added so that you can view and delete an orphan row or invalid data that cannot be accessed or deleted from the user interface. This data may include an orphan row from an import format, location, or data load rule. It can also include a duplicate row, or a Cloud user id or password defined for a local target application.
Worked with Advanced Data Maps in Strategic Modeling
In Strategic Modeling, when mapping from multiple dimensions to a single dimension, for example from Years and Period in Planning to Time in Strategic Modeling, on the Edit Data Map page, you can now delete source combinations you no longer need. Deleted source combinations will not be automatically populated again if you return to the Edit Data Map page. If you later want to see the deleted source combinations, click the new Populate Detailed Mappings button. The Edit Data Map page is updated to show all possible source combinations.
Smart View Support for Dashboards
You can now open Oracle EPM Cloud dashboards in Oracle Smart View for Office.
Dashboards give you an overview to key information and let you change and save data. When you open a dashboard in Smart View, a new Excel workbook is launched with each dashboard object displayed in a separate worksheet. Chart objects are displayed in grid format. Only grid and chart objects are supported; other dashboard objects are ignored.
EPBCS Only
Create Custom Depreciation and Amortization Methods
In the Capital business process, you can now define custom depreciation and amortization methods. Capital now provides a Smart List entry called Custom. You can define a business rule to calculate depreciation or amortization as needed for your business, and then associate the new business rule with the Custom Smart List entry.
Upcoming Changes
Proposed Changes to Application-level Access Control
Using Groups created in Access Control, EPM Cloud supports application-level access control for planning, consolidation and close, tax reporting, and Oracle Enterprise Data Management Cloud applications. In addition to the custom groups created in Access Control, access control screens list predefined identity domain roles (Service Administrator, Power User, User and Viewer) as groups.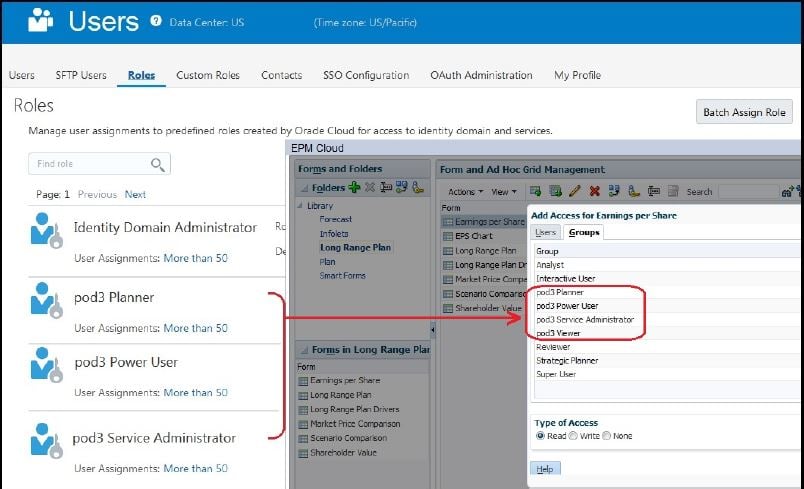 With a view to simplifying security across EPM Cloud and to ensure that application-level access control can be seamlessly migrated across environments Oracle plans to remove the ability to display predefined roles as groups in access control screens. After this change, you will no longer see predefined roles listed when you search for groups in access control screens.
NOTE: The proposed change will not affect how you create and manage groups or use them for application-level access control.
Before making this change, Oracle wants to evaluate the impact, if any, that the proposed change will have on your environments. If you are concerned that the proposed change will affect your environment, please create a service request explaining your use case.
Classic Dimension Editor
With a view to allowing customers more time to familiarize themselves with the Simplified Dimension Editor, Oracle has decided to defer the removal of support for Classic Dimension Editor to a future update in 2019. Oracle will notify you at least two months prior to the removal of the feature.
Ability to Create New Composite Forms
To allow customers more time to adapt and move from composite forms to dashboards, Oracle has decided to defer the removal of the ability to create new composite forms (forms that comprise multiple simple forms) to a future update in 2019. After this update all existing composite forms can still be edited and used. This change impacts only the creation of new composite forms in the service. Oracle will notify you at least two months prior to the removal of the feature.
All customers are advised to use dashboards in place of composite forms. No more enhancements will be made to the composite forms functionality.


You might also be interested in...