Oracle's latest and greatest Hyperion release, version 11.1.2.3, is loaded with new enhancements designed for both the business user and the technical support team. The webcast provides you a consolidated overview of our Top 5 Features and the business challenges they address.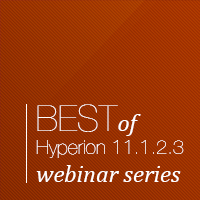 As a long-standing Oracle Partner, US-Analytics has been providing Hyperion professional services for 14 years in EPM, Infrastructure, BI, and Managed Services - for companies such as Alliance Data Systems, Transocean, and Life Technologies. We invite you to hear 10-minute sessions on each of the following:
Planning type ASO for larger planning applications with more granular data sets.
The benefits and limitations of FR mobile access.
Enabling SmartView across multiple Hyperion applications -- in one deployment.
Using Metadata Management in SmartView to reduce the need for users to access Workspace.
New Log Analysis tool, a command utility that quickly identifies problems by analyzing log files.