Missed Kscope14? We've got you covered. Exclusive content from the content now available. Held annually for Oracle developers and architects, ODTUG Kaleidoscope offers the finest in-depth technical sessions and hands-on training around Hyperion applications and infrastructure, Essbase, Oracle Business Intelligence (OBIEE) and BPM.
Kscope Presentation Download: Essbase Can't Handle That! Or Can It? A Guide to Large-Scale Essbase Implementations with ASO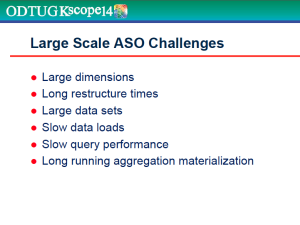 So your users want to see all of their data - at the customer level. They also want to see it at the product SKU level. They also want to see it by store. They would also like the kitchen sink. Drawing from experience with real clients, learn some simple tricks and some advanced techniques to maximize your ASO database performance. Whether you have millions of members or billions of rows of data, this presentation is just what you need to get the most out of your large-scale ASO cubes. This presentation offers cache settings, load rule tweaks, slices of data, and much more.
Brian Marshall is a US-Analytics Practice Manager with over ten years of expertise providing information technology solutions to drive business and revenue inside a variety of organizations. He has extensive knowledge of the Enterprise Performance Management suite of products. He specializes in Hyperion Essbase (ASO and BSO), Hyperion Planning (Classic and EPMA), and Hyperion Financial Management. Brian has presented every year at the ODTUG conference since 2010.