Those who have Oracle Data Relationship Management (DRM) often don't realize the power of their solution and end up underutilizing the tool. Because DRM has been continually optimized over decades, many organizations are missing facts about DRM's capabilities — facts that could be keeping them from a higher return on investment.
We've already debunked common myths around DRM's project costs and timeframes. Now, in this second post in the series, we'll take a closer look at DRM's functionality and how to get more from the tool. These myths revolve around DRM use cases, mappings, workflows, and data cleansing.
Myth 1: I can't use DRM for customer, vendor, and other non-financial master data
Though DRM is often used in conjunction with Oracle's suite of EPM applications, the tool goes beyond financial reporting. DRM is well suited for change management around other domains such as product, site/location, vendor, sale channel, and more. If you're simply using DRM for your financial reporting, you aren't getting the most out of your investment.
DRM wasn't built to be used with any specific domain. No matter where your data is coming from, DRM can homogenize it for your reporting purposes.
Myth 2: DRM can't manage my mappings
When our consultants speak with folks about DRM, they're surprised to hear that many current and prospective users don't believe you can use DRM for mapping. Much of DRM's capabilities revolve around mapping, whether it's a consolidation for finance or mapping sales channel alignments.
DRM supports multiple ways of mapping hierarchies and reference data. The most common mappings are simple parent-child relationships; more complex mappings require DRM property associations between member nodes managed in different hierarchies. View this video to watch how DRM links properties (e.g. groups, hierarchies, nodes) together.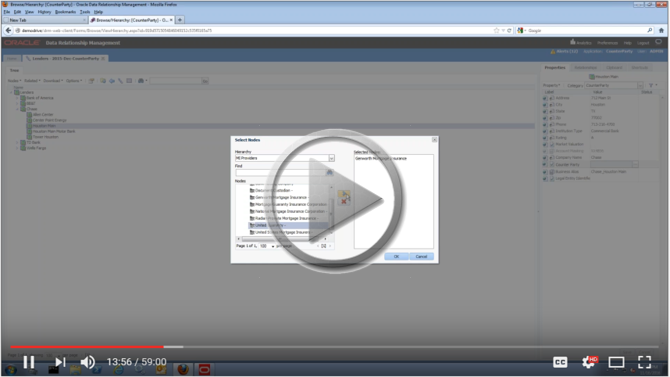 Myth 3: DRM doesn't have workflow or change approval
This is a myth that might date back to the advent of DRM. When it was new, DRM didn't have built-in workflow and many customers created their own custom workflows. But now, DRM has Oracle Data Relationship Governance (DRG) built in, allowing you to manage change processes and approvals.
Data governance is a central component of the Oracle DRM suite. You can enforce business and data quality rules, compare scenarios to track changes, and track activities with complete audit trails and versioning capabilities. With simple configuration and no coding necessary, workflows empower process owners to be highly collaborative while ensuring data consistency. To learn how to leverage workflows, watch this tutorial in DRM.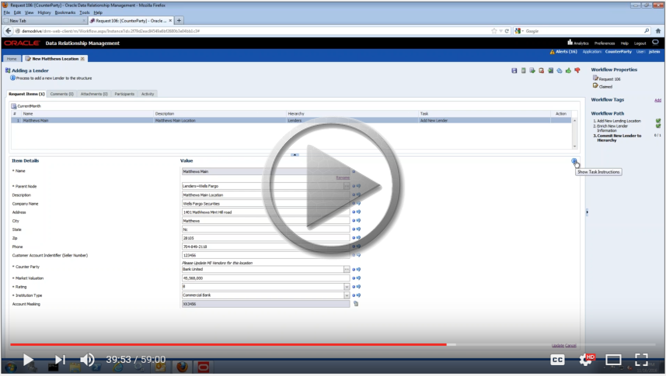 DRM also gives you insights into your governance processes with its analytics tool, Data Relationship Management Analytics (DRMA). The various dashboards allow you to track and manage changes coming through, giving you a direct and comprehensive look at the health of your application. The dashboards in DRMA include:
Change analysis
Growth trends
In-flight request monitoring
Governance model adoption
Myth 4: DRM doesn't support a data cleansing or a record matching process to prevent duplicates
When data is imported into DRM, you can create one single source of truth with the ability to blend multiple hierarchies together. The blending option is designed to allow you to combine information from various sources so that you don't have duplicates. DRM's blend and compare tools help find differences and will match and update based on what your requirements are.
Additionally, DRM enables you to take a deep look into your structures to see if there are members that don't belong there. If you have an attribute that needs to be in all your structures, you can do a detailed comparison to see where it might vary.
Almost all MDM applications use third-party technology to do full-on enterprise data quality (EDQ). Oracle bought two industry leaders, Datanomics and Trillian, to make their EDQ one of the best. For a deeper dive into EDQ, watch this video.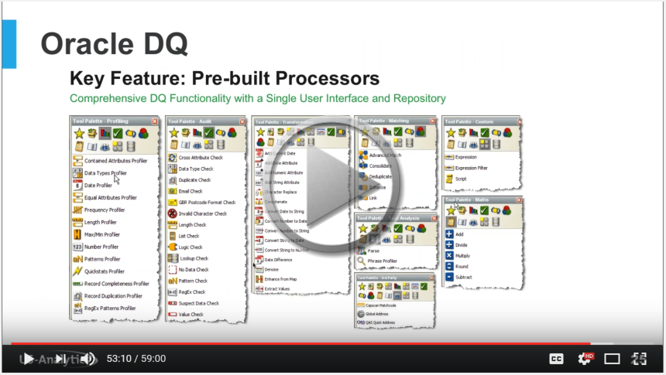 Want more details on DRM's lesser known capabilities? Watch the webinar replay!