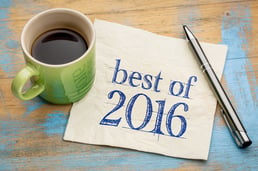 We had a big year producing tools, white papers, videos, and more so that you can get the most return from your EPM and BI investment. This blog post counts down our 10 most popular downloads.
The PBCS Planning Toolkit acts as a guide for organizations considering making the move to the cloud, or starting with a cloud-based planning solution. If you're thinking of deploying PBCS next year, the toolkit will tell you everything you need to know about project planning and deployment times, including:
An itemized sequence of tasks in a sample PBCS project plan
A time-to-deploy estimator to customize and estimate your project timeline
And a free 30-minute consultation with a PBCS expert


In 2016, data governance guru Greg Briscoe joined the US-Analytics team and taught us all a thing or two about the power of Oracle Data Relationship Management (DRM). In this webinar, he explained how to deploy an enterprise data governance initiative utilizing DRM and reap the following benefits:
Improve business user productivity and reporting accuracy by streamlining hierarchy management
Reduce the cost of compliance and minimize endless reconciliations
Accelerate transformation, corporate reorgs, mergers, acquisitions, and divestitures
Mitigate risk by allowing users to request changes to data
This eBook includes 100+ pages of time-saving tips and step-by-step tutorials for FDMEE and ODI. Our EPM integration consultants walk through how to...
Utilize an HFM application as a source

Utilize an Essbase application as a target or a source

Enable and configure Map Monitor Reports

Optimize productivity in ODI Studio

Use a source adapter parameter to filter data

And more
This tool will allow you to objectively evaluate your organization's current state, future state, and the steps you need to take toward improvement. With this download, you'll get the maturity model along with 6 key questions to determine next steps.
In this Excel workbook, you'll gain access to 5 templates that will help you prioritize your initiatives, schedule your projects, calculate your project ROI, and prepare a performance management roadmap:
Initiative matrix
Simple ranking matrix
Complex ranking matrix
Roadmap
ROI calculator
In this white paper, you'll learn how to design effective dashboards to better communicate information across your organization. Discover the best practices in data visualization, including:
The primary purpose of any dashboard
Key uses across the organization
How to prepare an effective dashboard
Guidelines for KPIs that tell a message
Templates and examples
We don't have to tell you that month-end close can be a hectic time. But many organizations make the mistake of not completing several administrative tasks before starting the close process. Performing HFM maintenance can put stress on your system and kick out users, making it paramount that you complete these tasks before close.
In this white paper, you'll learn 5 pre-close activities that will save time, reduce errors, and improve performance so that your close process runs smoothly.


The Essbase Spreadsheet Add-in was discontinued after the 11.1.2.2 version of Essbase. To help with the transition, Oracle added several news features to Smart View. The comparison chart shows how Smart View offers superior functionality compared to the Essbase Spreadsheet Add-in.
In this eBook, the US-Analytics data governance experts answer the 10 most frequently asked questions about data governance, master data management, and best practices for your organization. Some of the questions include:
What's the difference between data governance and master data management?
What does a successful data governance process look like?
How often does data governance need to be managed?
What is the best data governance software on the market and why?
Drumroll! Our most popular download was the HFM Metadata Utility. This tool will allow you to import HFM metadata files into Excel, where you can review, edit, and export content back to a file for loading HFM. Get ready to leverage the power of Excel for fast, easy reviews and edits.