The June features and updates for Oracle's Account Reconciliation Cloud Service (ARCS) have finally arrived! In this blog post, we'll cover the new features coming for the month of June as well as upcoming changes.
We'll let you know any time there are updates to ARCS or any other Oracle EPM cloud products. Check the US-Analytics Oracle EPM & BI Blog every month.
The monthly update for Oracle ARCS will occur on Friday, June 21 during your normal daily maintenance window.



ARCS New Features
New EPM Cloud Services
Oracle has introduced two new Oracle Enterprise Performance Management Cloud services: Oracle Enterprise Performance Management Standard Cloud Service and Oracle Enterprise Performance Management Enterprise Cloud Service.
Changes introduced with the new services mainly affect new customers only; current customers will continue using their existing, familiar EPM Cloud environments. Going forward, the two new EPM Cloud Services will replace the existing EPM Cloud Service offerings for new purchases. The Business Processes and features available to you depend on the specific EPM Cloud service that you purchase. Users will notice some changes to certain naming and terminology used in documentation, videos and other collateral as we adopt the new Cloud Services (Standard and Enterprise).


Generation of a Report Through Rest API Now Available
You can now generate a report in ARCS by using REST API. All predefined Reconciliation Compliance reports, predefined Transaction Matching and custom reports can be generated this way.


Reports Now Available in CSV Format
You can now generate a report in CSV (Comma Separated Value) format. This is available for predefined or custom reports.


Filtering and Grouping Capabilities Added to Automatch Rules in Transaction Matching
You will now be able to filter or group transactions within AutoMatch rules which will enhance the performance and match percentage within Transaction Matching. Filtering or grouping is optional for each rule. AutoMatch will only include the transactions specified by the filter while executing the rule. Grouping which will be for "many" type rules only means that the grouped transactions will behave as a single transaction.


Point of View (POV) and Search Field Added to Jobs
The Jobs card under Applications now has a Search field and a Point of View (POV).


Current & Actual Workflow More Apparent in Reconciliation Compliance
The workflow user who originally worked as a preparer or reviewer on a reconciliation is now visible on the UI in Reconciliation Compliance along with the current workflow user.


Support Calculation for Data Type Attributes in Transaction Matching
Calculation is now supported for data type attributes that you define in a data source in Transaction Matching.


New Version of EPM Automate
A new version of EPM Automate is available with this update. This version contains updates to the recreate command, which has been enhanced to change the service type of a current environment to another service type; for example, to change a Planning and Budgeting environment to an Oracle Account Reconciliation environment.


Removal of Support for Transport Layer Security Protocol 1.0 and 1.1
As stated in previous blog posts, Oracle supports only Transport Layer Security protocol version 1.2 (TLS 1.2) to communicate with EPM Cloud. To ensure the highest level of authentication and data encryption security, support for TLS 1.0 and TLS 1.1 have been removed.
Because most modern operating systems and browsers support TLS 1.2; users of such systems and browsers are not affected by the deprecation of TLS 1.0 and 1.1. EPM Automate and Smart View are also not affected by this change.
You cannot use client operating systems that do not support TLS 1.2 (for example, Red Hat Enterprise Linux 5 and Microsoft Windows 2002) to run operating system-specific commands (for example, code to run cURL tools to transfer data and custom code that integrates with the REST APIs) against EPM Cloud. Additionally, Smart View installed on such systems will also fail to communicate with EPM Cloud. Similarly, you cannot use browsers that do not support TLS 1.2 protocol to access EPM Cloud environments.


Connections Interface Updates
Updates to the Connections interface include grouping all EPM service providers into a single provider called Oracle EPM Cloud.
On the Select Provider to Create Connection page, all Enterprise Performance Management service providers will be grouped into a single service provider called Oracle Enterprise Performance Management Cloud.
On the Connection Details page, based on the URL provided, Application Type will be automatically identified and displayed.
On the Manage Connections page, the name and description will be grouped together under one column called , and the application type and provider will be grouped together under one column Name called Application.


New Connection Type and Advanced Options for External Connections
Service Administrators can now create connections to external Web services and specify optional query or header parameters while defining external connections. These connections can be referenced or used in a Groovy script to create a communications link between the Groovy script and the external Web resource.


Script Available for Maintaining a Snapshot Library
Generally, Oracle Enterprise Performance Management Cloud supports snapshot compatibility for one monthly cycle only; you can migrate maintenance snapshots from the test environment to the production environment and vice versa. However, audit requirements of some customers may necessitate restoring snapshots from multiple years on the latest EPM Cloud environment, and accessing application in a short period of time.


New EPM Cloud URL
Starting with this release, all EPM Cloud Service instance URLs will use epmcloud as the context for accessing environments.
Existing users may continue using the current URLs to access EPM Cloud environments or update them with this new application context. For example, if the current URL is https://example-idDomain.pbcs.dom1. oraclecloud.com/HyperionPlanning, you can update it to https://example-idDomain.pbcs.dom1. oraclecloud.com/epmcloud.


TLS 1.2 Support for Outbound EPM Cloud Emails
EPM Cloud has been enhanced to send outbound emails using Transport Layer Security (TLS) protocol 1.2. This update enables EPM Cloud to route emails, for example, from Financial Reporting Batches, correctly even if your email server accepts only TLS 1.2 compliant emails.


Purge All Imported Data
Use the new Purge All Imported Data script, available in Data Management, to clear all imported data from your data tables for a selected LOV. Purging data may increase system performance and enables you to start over when loading data. Note that there is no backup or utility to recover any purged data when this option is executed. For this reason, use extreme caution before executing this script.


Data Export to File
The Data Export to File option in Data Management enables you to export data from an EPM application to a data file. You can use the data file to load data into an ERP application or an external system. The new Data Export to File option provides several enhancements over the existing Custom Application option and will provide performance improvement when using the Simple workflow mode option.
Both the Data Export to File option and custom target application options are supported in this release. Eventually, the Data Export to File option will supersede the custom target application option due to its enhanced functions and capabilities.
Starting with this release, you can migrate your existing custom target applications to Data Export to File application using a new Upgrade Custom Application script. The new script is available under the System Maintenance and it can be run for an individual or all scripts.


Upcoming Changes
EPM Cloud's New Look and Feel
In a future update, there will be a revised interface with enhanced navigation and a new theme called Sky Blue.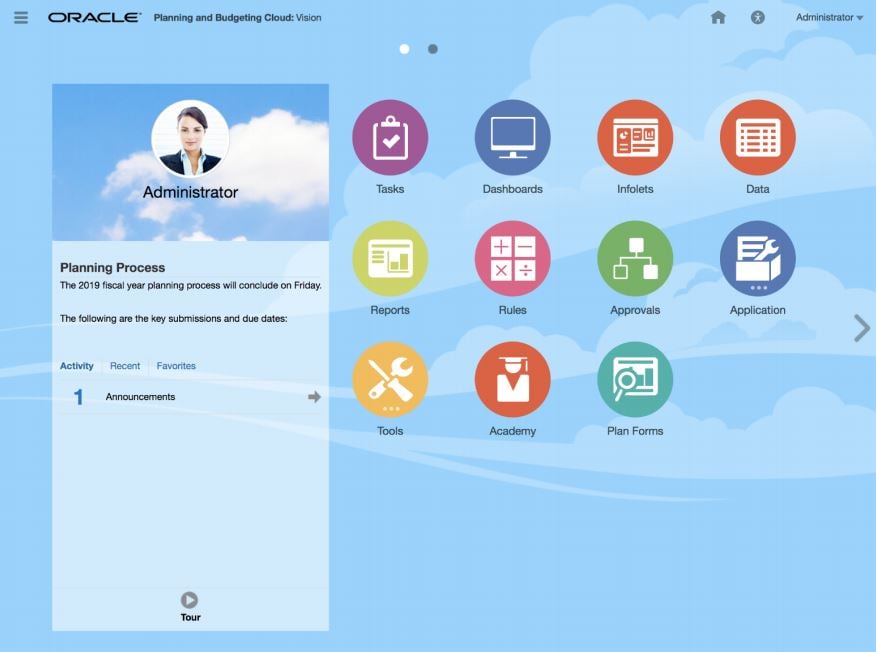 The revised interface retains existing functionality and enhances your Home page experience with a more responsive design. The Welcome panel and the global header readjust after resizing, which means less scrolling. Clearer announcements and notification areas are added to the Welcome panel, as are arrows to help you navigate easily between the Home page and your infolets. A bigger Navigator menu has improved usability, more themes for customization are included, and a bigger work area has more space to maneuver and provide better visibility. The interface is more consistent with other Oracle products, such as Fusion Applications.
After the interface is released, all new customers will use the new lighter-colored Sky Blue theme, and existing customers will keep their current theme. You can switch themes using Tools, and then Appearance.