As the latest offering in Oracle Hyperion's cloud-based solutions, Oracle Account Reconciliation Cloud Service (ARCS) enables mid-sized companies with limited IT resources to leverage technology to integrate their ERP and automate reconciliations. Oracle's on-premises alterative is Account Reconciliation Manager (ARM). ARCS looks and functions like the 11.1.2.4 version of ARM, with a few exceptions.
Overcoming the knowledge gap before the start of design sessions is key in kicking off a successful Oracle Hyperion ARCS or ARM implementation. A large part of the discussion revolves around how the reconciliation process works in an integrated application. Taking time for knowledge transfer in this stage of the project allows for productive design sessions and enables the company to explore ways to enforce their accounting policy with the technology that Oracle Hyperion ARCS and ARM offers.
First, let's take a look at the nuts and bolts of the reconciliation process and how ARCS and ARM can help.
Reconciliation Basics in ARCS & ARM
What is the process to reconcile in Oracle Hyperion ARCS and ARM?
Oracle Hyperion's reconciliation solutions support two different methods: balance comparison and account analysis. We will cover the balance comparison method in this blog post.
Balance comparison is the reconciliation method that compares two balances. Examples of a balance comparison reconciliation include cash with a bank statement or any general ledger account with a subledger system.
How is data loaded to Oracle Hyperion ARCS and ARM?
Data is loaded to six unique data point combinations of currency, buckets, and system. Buckets are defined as entered, functional, and reporting. System defines the origin of data as source or subsystem.
Currency and foreign exchange translation is determined by rate tables that are maintained in Oracle Hyperion ARCS and ARM on a monthly basis. The foreign exchange is calculated from one currency-bucket-system to another currency-bucket-system.


Balance Comparison Reconciliation
Let's take a look at the manual process to reconcile cash compared to the integrated process in ARCS and ARM in a balance comparison method.
Manual Reconciliation Process
In a manual cash reconciliation process, the accountant prepares the form and begins the process of pulling together the cash balance sheet total and bank statements. The reconciliation form represents the following:
+ Cash balance as reported on the balance sheet
- Cash balance as reported on the bank statements
= Difference
At this point, the accountant explains any difference in cash between balance sheet and bank statements. Any supporting documentation is attached and sent off to management for review.
Integrated Reconciliation Process
In an automated cash reconciliation process, the accountant logs in to ARCS and ARM. The reconciliation is opened from the work list dashboard.
+ Cash balances are imported automatically from the ERP general ledger
- Cash balances are imported automatically from the bank statements
= Difference
Support is attached to the reconciliation and sent off to management for approval. The benefits of the integrated reconciliation system include:
Central repository for attachments and access to reconciliation history

Clearly defined reconciliation workflow: With Preparer, With Reviewer, and Closed

Time stamp preparation and review

Email notification

Auto reconciliation
Auto Reconciliation
In ARCS and ARM, the balances from ERP general ledger and bank statements can be pulled automatically into the fully integrated reconciliation system; this level of integration allows for auto reconciliation.
If the difference between the imported cash balance from ERP and bank statement is zero, then the reconciliation workflow moves to "Closed" status and complete automatically. With daily reloads of data, ARCS and ARM ensure that no changes have been made to a fully reconciled balance sheet account. In the event that a change does occur in the ERP, the reconciliation is kicked back to "With Preparer."


Increasing Visibility
In the above scenario, we discussed balance comparison from a manual and fully integrated perspective. ARCS and ARM has additional functionality to increase visibility and enforce accounting policy with:
Reconciliation format – drive standardization and quality assurance certification
Custom attributes – use for reporting, increasing visibility into ERP activity (Aging, DSO), and filtering
Rules – enforce reconciliation form compliance and automate various functions on the reconciliation form
The goal of an integrated reconciliation system is to provide the framework for executives within the organization to have increased visibility into divisions and business unit ERP activity. ARCS and ARM provide divisions and business units with the tools to process reconciliations with quality assurance and simplify workflow. And by providing reconciliation access (both online and offline) with report binders, you can reduce auditor requests and prevent losing attachments.


Managing the Reconciliation Process in ARCS
In this 5-minute video tutorial, learn how to complete key account reconciliation tasks each period in ARCS: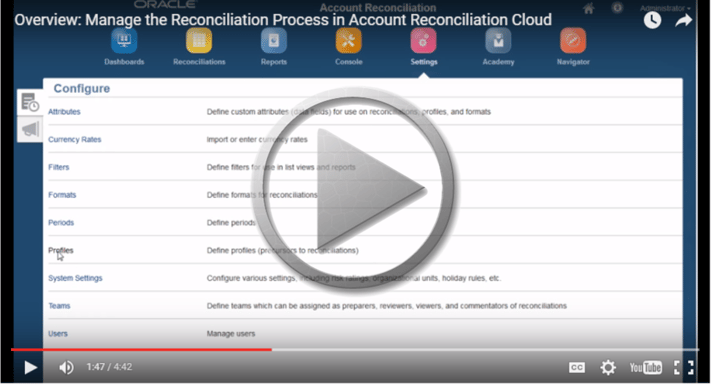 In my next blog post, I will discuss foreign exchange and account analysis method to reconcile accounts in a manual process versus a fully integrated reconciliation process.