Is your organization still using Oracle Discoverer? By now, you're probably aware of the end of extended support for Discoverer, and that we are well outside the extended support window. You could still be using Discoverer for several reasons, but the fact remains, having your business rely on a tool which is no longer supported is expensive, risky, and dangerous.
The Discoverer migration paths aren't exactly clear, though. Luckily, there's an upgrade path to Oracle Business Intelligence (OBIEE) or Oracle Analytics Cloud (OAC) that is simple, fast, and affordable. If this sounds like exactly what you need, then feel free to skip down to the bottom. For those of you not convinced of the importance of migration, read on...
Exactly how expensive, risky, and dangerous could it be?
I don't need to convince you of the high price of Oracle software. However, the real costs associated with a product outside of an extended support window is with ongoing maintenance. As the tool ages, compatibility and stability issues will become a larger time sink for your developers. Your business will be forced to use outdated and deprecated software to work with Discoverer, which in turn requires additional maintenance to ensure stable operation.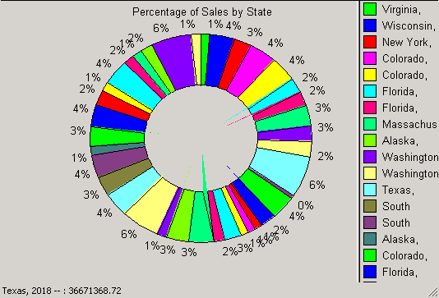 A blast from the past.
Maintaining this kind of infrastructure quickly handicaps your organization by abandoning any technological advantage afforded by contemporary tools. While your competition harnesses modern technology to operate faster and more efficiently, your developers will instead be supporting Window Server 2003 and Oracle Database 10g. By clinging to antiquated software, your expenses won't only be maintenance, but also in the form of market share.
With environments comprised of old software, you also enter an area of great risk. The number of compatibility issues encountered increases exponentially as your business attempts to adopt newer technologies, only to find out they're not compatible with any of your existing software. This leads to inevitable stability issues. Some software will, at first glance, be working fine. That is up until the point it takes down your Production environment. And what was the cause? An issue few could have foreseen because of the diversity of your environment in conjunction with software no one has worked with in fifteen years (Wayback Machine may be more useful than Google).


One of many issues you're sure to come across.
But the riskiest area of all is security. Oracle's Sustaining Support only includes assistance with pre-existing security alerts and updates. This means any new vulnerabilities found in the tool will remain vulnerable indefinitely. As evidenced by the numerous high-profile security breaches in recent years, maintaining software with known security vulnerabilities is dangerous – not only for you and your business, but also for your customers and partners.


Well, what are the options?
Okay — you're convinced. You need to find an alternative to Oracle Discoverer. A popular option is to migrate to Oracle Business Intelligence (OBIEE) or Oracle Analytics Cloud (OAC). For the purposes of this article, let's only look at the approaches to migrate to these platforms.
1) DOMA:
Oracle's recommended approach is to use the Discoverer Metadata Migration Assistant (DOMA). This tool consumes the EUL output from Discoverer and converts it to an RPD. There are some configuration options available, but the process is relatively straightforward.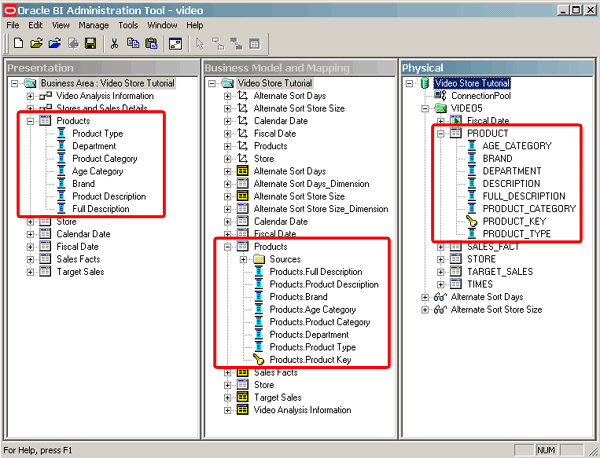 An RPD straight out of DOMA (image provided by Oracle)
Let's consider some advantages and disadvantages of this approach:
Advantages:

· Creates an initial RPD as a starting point

· Potential to be completed quickly
Disadvantages:

· Limited customization

· Auto-generated RPD leaves possibility of errors and inefficient structure

· Reports and visualizations are not migrated


The major disadvantage here is DOMA allows very little customization, leading to the output becoming what the tool thinks is possible, and not exactly what you want. This means the output (the RPD) typically requires additional, extensive, development. While it may be a good starting point, it won't get you all the way there by itself.


2) Manually:
Another option is the manual approach, that is, performing all tasks to develop a functional Oracle BI environment (Web Catalog, RPD). This approach provides more flexibility, but at the cost of development time or dollars in outsourcing the development work.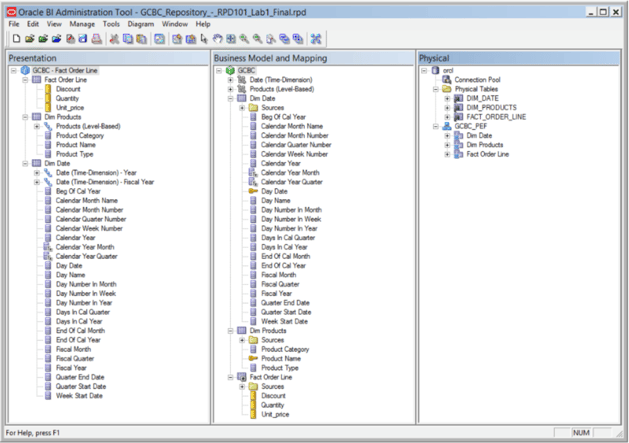 Coming from Discoverer, this may be intimidating.
Let's consider some advantages and disadvantages of this approach:
Advantages:

· Fully customizable for your business
Disadvantages:

· Requires knowledge of RPD and OBIEE development

· Long time-to-live (TTL)
In this scenario, the only real benefit is flexibility. Developing the environment artifacts from scratch will take a long time, even with an iterative rollout. Additionally, the development skills required to build an RPD cannot be translated from developing in a Discoverer environment. Your developers will need time to learn a new set of skills that can be applied to the new technologies.


3) AccelerateBI for Discoverer:
The final approach we will discuss is US-Analytics' AccelerateBI for Discoverer tool. This tool hooks into your Discoverer environment and converts your Discoverer Business Areas into Oracle's Data Visualizer (DV, available both on-premises and in OAC) data sources and projects.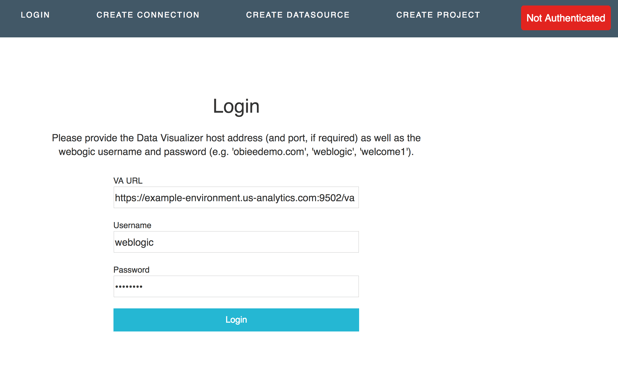 Command-line is optional. Why make it harder on yourself?
Let's consider some advantages and disadvantages of this approach:


Advantages:

· Potential to be completed quickly

· Fully customizable (we control the code)

· Leverage the newest features Oracle BI offers
Disadvantages:

· Does not create an RPD
While the AccelerateBI for Discoverer tool is designed to enable your organization to perform a Discoverer migration to OBIEE quickly, it is not designed to "automagically" create an RPD. The benefit is the speed of delivering a functioning reporting tool to your users with minimum time and effort, allowing your team to focus their energy elsewhere. No other approach grants you the speed of the AccelerateBI for Discoverer tool.
What's the best approach?
Our recommended approach for a Discoverer migration to Oracle BI is as follows:
Use the AccelerateBI for Discoverer tool to acquire a functioning environment quickly.
The AccelerateBI for Discoverer tool, as discussed above, is the quickest method to provide a functioning Oracle BI environment. Instead of making your stakeholders wait six months to start seeing progress, provide a working environment in as little as two weeks. Your business will appreciate the expediency, and it buys your team development time for the more intensive tasks.


Use the DOMA tool for a head start on RPD development.
DOMA may not produce the perfect RPD for your organization, but it will grant your team a definitive head start. RPD development can be difficult, so offloading the creation of any portion of the RPD is usually beneficial. That being said, building an RPD from scratch is an attractive approach to organizations requiring more flexibility.


Direct attention to the RPD.
Now, once you have a working environment for your users, and a basic RPD as a starting point, you can invest time in building your full RPD. Of course, you still need to consider other artifacts such as the security model, scaling the environments, scheduling backups, documenting a development process, and much more. But now you're free to prioritize these efforts while your users acclimate to the new technology.
Enabled by the AccelerateBI for Discoverer tool, your organization can fully realize the potential of your new Oracle BI instance without many of the headaches of a year-long migration effort. The business' stakeholders, developers, and users can be kept happy, and your migration can be made a success.
Wondering what this experience will look like for your organization? See how a major credit agency successfully migrated from Discoverer to OBIEE using AccelerateBI: