If you're in the market for an account reconciliation solution, you're probably feeling the pain points of manual processes. Fragmented data. Lack of visibility into progress. Time-consuming reconciliations that cause a major bottleneck in the financial close process.
The costly risks of manual methods — missing or lost reconciliations, unreconciled accounts, improper use of roll-forwards, and insufficient justification or documentation — can be prevented by automating your account reconciliation process. The question isn't whether you should protect your organization with an account reconciliation tool, but which tool is best.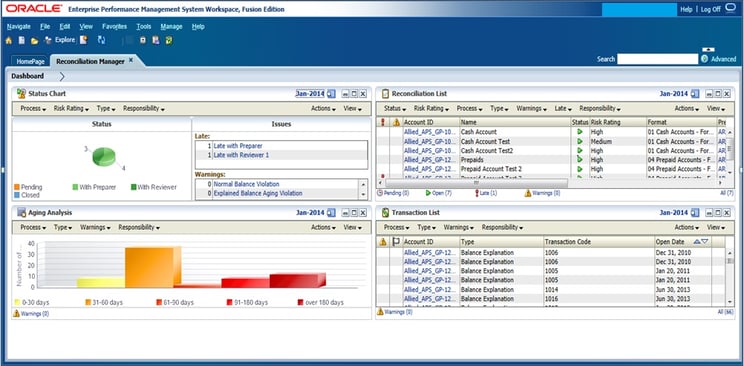 We've not only helped companies move from manual to automated processes with Oracle Account Reconciliation Manager (ARM), but we've helped customers make the switch to Oracle ARM from various other account reconciliation tools, including SaaS applications like BlackLine account reconcilation software and Trintech. That's how we know Oracle ARM is the best solution on the market — customers attest to it.
Below are the three primary reasons why Oracle ARM is a cut above the rest.
1. Flexibility of Data Loading & Integration With Any Source System
The basic definition of account reconciliation is agreement — ensuring that balance sheet balances agree to your subledger or are substantiated through explained detail. The data integration engine that powers Oracle ARM provides automatic source and subsystem balance data feeds.
FDMEE is the data integration/management application that extracts, transforms, and loads source system and subledger balances to ARM. The key benefit to having FDMEE for ARM is flexibility. FDMEE can be directly integrated with source systems such as Oracle E-Business and SAP or link directly to database tables with Oracle Data Integrator and the Open Interface Adapter. Most companies that are in the market for an account reconciliation solution have noted that other tools require stringent data set formats and file-based data loads. FDMEE, on the other hand, does not constrain source systems to comply with a particular file format.
This flexibility means that companies can quickly transition new acquisitions or business units with unique accounting systems to FDMEE and reconciliation in ARM. For companies that are on a patchwork of ERP systems or are in the process of ERP consolidation, there is a solution within the newest version of ARM. In ARM version 11.1.2.4.100, companies are provided more integration options directly in the application with mapped loading to subsystem balance and explained balance detail. With this function, companies do not have to wait until a business unit consolidates within the ERP or provide a complex data integration solution for a patchwork ERP. For every financial system landscape, FDMEE and ARM provide the solution and tools for data integration for general ledger balances and account reconciliation.


2.

A Complete Toolset
Most companies that are looking for an account reconciliation solution are not aware of everything they receive with the purchase of a license. ARM is a module of Oracle Financial Close Manager (FCM) that is solely dedicated to account reconciliation. A license for the Financial Close Manager application includes Account Reconciliation Manager, Close Manager, and Supplemental Data Manager modules.
Close Manager (CM) is a task management solution dedicated to the organization and consolidation of accounting close tasks. Employees are assigned to a task, and the tasks are given due dates. CM integrates tasks with other Oracle Hyperion applications such as HFM, Planning, FDMEE, and Oracle E-Business. Tasks can also be viewed and displayed in Outlook via the Smart View extension.
Supplemental Data Manager (SDM) is a module dedicated to the management and subsequent preparation of Financial Supplemental Schedules. SDM helps companies streamline the supplemental data collection process and introduces visibility into the process, providing an easy-to-understand interface to design flexible data inputs for collecting complex information. The module is integrated with HFM metadata with posting and drill back. SDM changes the landscape of HFM by moving supplemental data forms off of HFM to SDM, where they belong.
The key is to not only automate the account reconciliation process but to fully integrate it with the financial close workflow. An integrated application makes the administration, preparation, and review of account reconciliations more efficient.


3. Offline Storage of Reconciliation Information & Attachments
With Oracle ARM, you get easy offline storage of your data and reconciliations through a feature called report binders. A major benefit is that external and internal audit queries can be handled with little to no interference within the application or offline.
Other account reconciliation tools make it difficult for customers to access and migrate all of their historical data, as we explained in How to Migrate Off a Subscription-Based Account Reconciliation Model. This is not the case with Oracle Account Reconciliation Manager.


Other Tools
If you're simply looking for an account reconciliation tool and don't want the whole FCM suite, you have another option. Oracle's Account Reconciliation Cloud Service (ARCS) provides you with the same functionality of ARM with the benefits of the cloud. There are a few noticeable differences between these two tools. Essentially what you're getting is a standalone, out-of-the-box account reconciliation solution with pre-built dashboards and standardized reports.
You've probably also heard a lot about BlackLine. This tool is completely cloud-based and, though they have a financial close management solution, you have to buy each product in the the suite separately. Unlike FCM, in which you get three tools in one, BlackLine has six products you have to buy to get a full financial close management solution. Of course, you could just buy the account reconciliation product, but then you'd be missing out on functionality like transaction matching (a separate BlackLine product) that is included in both ARM and ARCS.
Getting Started with ARM
With an experienced implementation partner, an ARM deployment typically takes 6–10 weeks. Learn how one company deployed Oracle ARM to transform a manual, paper-based system into a streamlined, automated process. Or see how another company replaced BlackLine with Oracle ARM to end rising subscription costs.
Download the eBook to learn more about account reconcilation solutions...