The industry is buzzing about digital transformation (DT) — the newest term to describe movement from on-premises to off-premises applications. Organizations eager to curb the never-ending costs associated with software and hardware upgrades as well as personnel management are moving in large numbers from on-prem Oracle EPM to the new cloud pod environment for Planning, Essbase, and Financial Close Management.
Challenges of Moving to the Cloud
Public, private, and hybrid cloud services tout simplified integration with their environments to meet business requirements. While these cloud offerings solve many financial and personnel issues afflicting Oracle EPM and BI clients, navigating this new territory can bring on a new set of challenges.
The organizations that are successful with their DT efforts recognize and plan for these new challenges. Integration seems to be the most prevalent challenge. Consider the data from a recent study — "Cloud for Business Managers: The Good, the Bad, and the Ugly" — regarding the success and failure rates of organizational DT projects.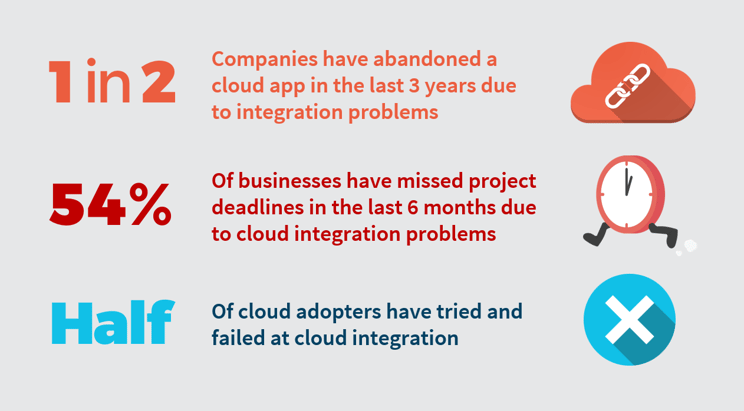 The single biggest source of failure is the lack of coordination and planning around the integration of cloud applications. Organizations fail to plan for this critical activity as part of their requirements gathering. As a result, companies find that their infrastructure can't support the storage and distribution of common data that their corporate applications require. The integrity of corporate EPM data depends on tight integration and synchronization, especially of metadata and associated properties. It's a costly mistake not to maintain the master data in a central repository capable of interacting with all on-premises and off-premises applications.
Avoid Becoming A Statistic
For a deep dive into integrating cloud as well as on-prem applications, watch our video or download our slides on Enterprise Data Governance for the Cloud. You'll learn how to gain control of your hierarchies and data, navigate integration challenges, and support cloud applications like Oracle PBCS, Salesforce, Workday, and more.