There's a lot of information out there about moving from Oracle Hyperion to the Oracle EPM Cloud, which makes sense — there's a lot you need to know. However, that saturation of content can be difficult to sift through and keep organized. This blog post is your solution.
In it you'll find a high-level overview of what you need to know before moving your on-prem tools to the Oracle EPM Cloud, along with links to more in-depth content.
This will be your a single point of reference to answer your questions about moving to the Oracle EPM Cloud.
Understanding the Models of Cloud Service
Everyone talks about the cloud, but many don't fully understand the various aspects of cloud-hosted technologies. Your data will be stored externally, but other aspects of your cloud-based solution depend upon what model that service uses. These models include:
Software as a service (SaaS)
Platform as a service (PaaS)
Infrastructure as a services (IaaS)
The Oracle EPM Cloud uses these models, but, when it comes to moving Hyperion to the cloud, we're mostly referring to SaaS. All the Oracle EPM Cloud solutions are on the SaaS model. PaaS may come up — we'll cover that in more detail in the next section of this blog post.
The graphic below explains what's managed by your vendor vs. what's managed by your organization in each cloud service model.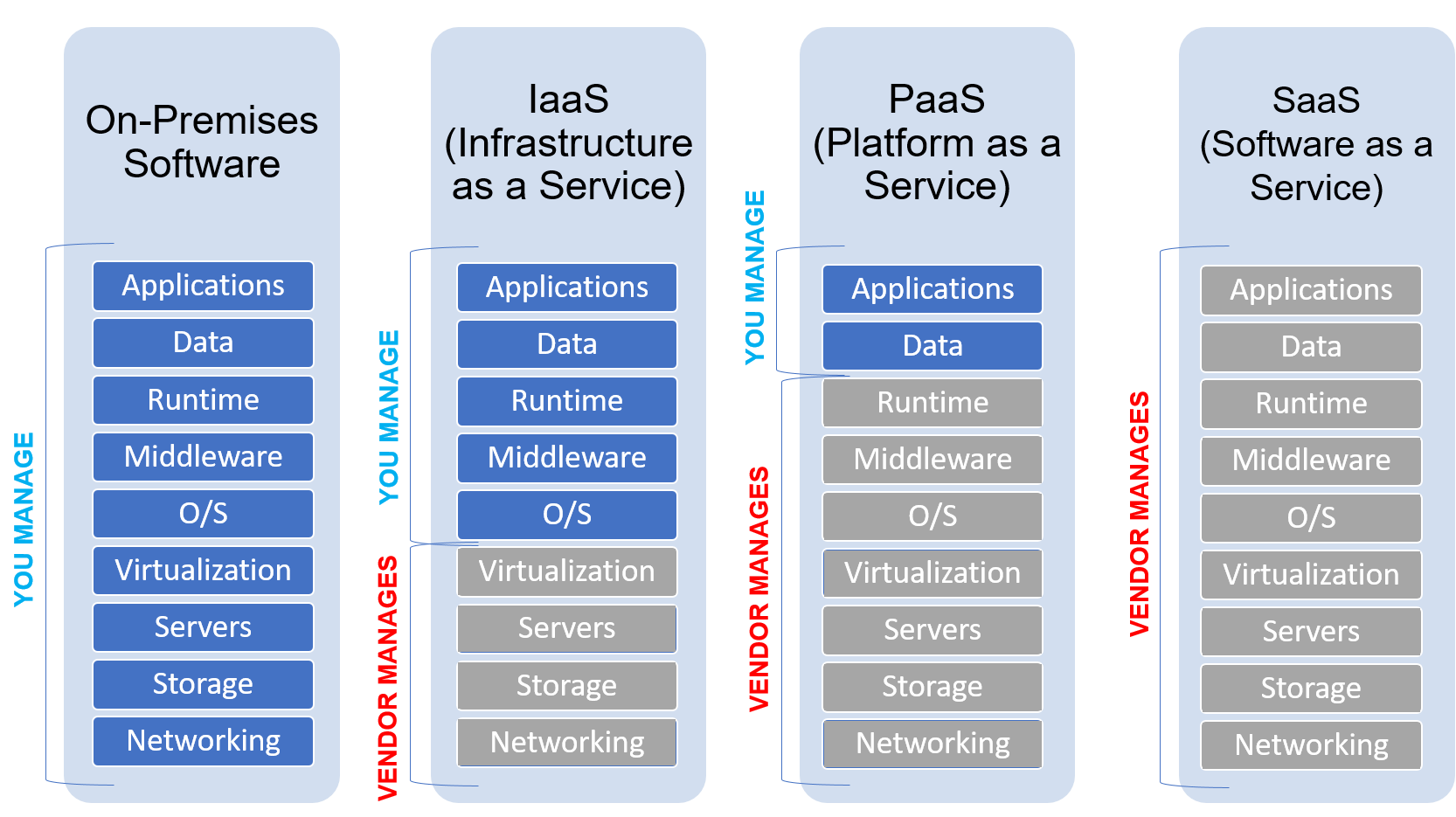 To learn more about the many facets of the cloud and the different types of cloud services, download the eBook…
Applications Available in the Oracle EPM Cloud
Currently, the Oracle EPM Cloud suite offers nine SaaS applications:
Has parity been reached between on-prem and cloud tools?
The issue with this question is that Oracle's cloud-based tools are always changing and receiving new updates. In fact, every EPM Cloud application receives monthly updates, which can include anything from major new features to fixed defects.
ARCS and the Account Reconciliation Manager (ARM) module of Hyperion Financial Close Management (FCM) are not incredibly different. The biggest difference is in data loads and reconciliation formats. The major differences between these two tools is outlined in this blog post.
PBCS has surpassed Hyperion Planning 11.1.2.4, and the next version 11.2 won't have all of the same features available in PBCS. To see what the future of Hyperion Planning vs. PBCS looks like, read this blog post.
Currently, one of the biggest differences will be using the simplified user interface (also included in the 11.1.2.4 version of Hyperion Planning) rather than workspace; and using EPM Automate in PBCS rather than MaxL. To learn some of the biggest questions users and admins have when moving from Hyperion Planning to PBCS, watch this webinar replay.
The most common questions we get about parity is usually about Hyperion Financial Management (HFM) and FCCS. Oracle is working diligently to improve the functionality of FCCS. To learn some of the biggest differences between FCCS and HFM, read this blog post.
At Kscope17, Oracle announced many plans for both on-prem and cloud-based EPM products. This blog post gives you a good idea of the current functionality included in the Oracle EPM Cloud, the features coming next, as well as what the future holds for these tools.


PBCS vs. EPBCS
If you decide to move Hyperion Planning to the cloud, you have an additional decision to make: PBCS or EPBCS?

The biggest difference between PBCS and EPBCS is that EPBCS comes with out-of-the-box modules, including:
Financial Statement Planning
Workforce Planning
Capital Asset Planning
Project Financial Planning
However, Oracle has updated their licensing (though many still use the PBCS/EPBCS terminology) to include two separate offerings: Oracle EPM Standard Cloud and Oracle EPM Enterprise Cloud. Rather than having separate SaaS solutions for each function (financial close, planning, account reconciliation, etc.), Oracle has packaged their EPM solutions into two offerings.
As you probably guessed, standard is the lighter version. The planning functionality in the Standard Cloud you get is akin to the out-of-the-box modules you get with EPBCS. The Enterprise Cloud allows for more
Essbase in the cloud is not part of the Oracle EPM Cloud
Essbase is an integral aspect of Hyperion Planning and other EPM tools. However, Essbase in the cloud is not part of the Oracle EPM Cloud. It's included in the Oracle Analytics Cloud (OAC) platform. You won't be able to purchase cloud-based Essbase as a standalone solution — you can either purchase the OAC Standard Edition or the OAC Enterprise Edition. To learn more about what's included with OAC and each edition, read the FAQ blog post.
Oracle updated Essbase for the cloud and designed the tool to support higher concurrency and faster recoverability. Additionally, the cloud-based version comes with…
Sandboxing
Scenario management
Lightweight workflows
"Approver" and "Viewer" roles
To learn more about the cloud version of Essbase, read the blog.

Data Integration
Data integration is the biggest challenge in moving to the cloud. In fact, integration issues are the number one culprit of failed cloud adoptions. Fortunately, there are tools out there that can help you with data integration issues in the cloud, such as Oracle's Data Relationship Manager. You will also soon have the option to use the cloud-based version of DRM — EDMCS.


Conclusion
There's obviously a lot to consider when moving to the cloud. But is it the right option for your organization? And, if it is, where should you go from there? Going blindly into a project like this can have serious ramifications, but there's a solution. An adviser can help you answer these questions and more — they can help you build a roadmap and even recommend the cloud-based tools that are right for you. To learn more about our advisory services, send us a message.
Related content: